With World Cup Qualification secured, the groups drawn and now going into the final two friendly matches before the World Cup list is announced, the players better impress if they want to be on the Argentina team for the World Cup. Taking into consideration all the Argentina squads Jorge SAMPAOLI has put out since he's taken charge of the team last year, it's easy to see the favorites and the one's which will be in Russia.
Sergio ROMERO
Nicolas OTAMENDI
Javier MASCHERANO
Lucas BIGLIA
Ever BANEGA
Angel DI MARIA
Lionel MESSI
Sergio AGUERO
If I were a betting man, I'd gamble on those 8 players (add HIGUAIN to that list which I'll talk about in a bit) having a spot already secured for the tournament this summer. There are some which you can tell have an outside chance (Marcos ACUÑA, Eduardo SALVIO, Leandro PAREDES) but it's difficult to tell and far from a guarantee. Several question marks remain and thus far I've refrained from talking about SAMPAOLI or the players but with this being the last list before the World Cup, time to dissect a little.
The Argentina team – Goalkeepers
Beginning with the goalkeepers. I think by the time Argentina played their first World Cup Qualifier under SAMPAOLI, it was clear that unless an injury happened, Sergio ROMERO will be the one between the sticks for Argentina. While getting very, very little minutes for Manchester United and a shaky World Cup Qualifying campaign, Sergio was a stud for Argentina the last three tournaments. Talking strictly numbers, in the three finals contested, ROMERO allowed 1 goal in 360 minutes. You cannot possibly ask for more from any goalkeeper in the world. Argentina did not lose those tournaments because of him. Hopefully he maintains that form at the World Cup.
Chelsea man Willy CABALLERO gets his call-up four years too late. He was the starting goalkeeper for Pep GUARDIOLA at one point at Manchester City last season benching Chile's Claudio BRAVO (who had just made a big move from FC Barcelona). Not sure if he even has enough time to impress SAMPAOLI but if both he and ROMERO are at the World Cup, Argentina will have two of the best penalty shot stoppers in the world.
The other name is that of Nahuel GUZMAN who played the match against Singapore and has not played a game for Argentina since the victory. Agustin MARCHESIN, who had an absolute nightmare against Nigeria has been dropped from the squad. SAMPAOLI has been experimenting lately with the goalkeepers but if one thing is for sure, it's that Real Sociedad's Geronimo RULLI can kiss his World Cup hopes goodbye after this list. It also doesn't help that the former Estudiantes shot stopper is not having the best of seasons and has even been benched this campaign.
The Argentina team – defenders
The defenders (the defense as a whole) has been a mess lately. Marcos ROJO (who at this point can be called a veteran for Argentina) was injured for nearly a year, came back for Manchester United, did not play well and has been dropped by Jose MOURINHO. Is it possible SAMPAOLI counts on his experience? With TAGLIAFICO there (very happy to see that), maybe the rabona loving Marcos can play as a center back and not a left back? If Ramiro FUNES MORI is in the squad (despite literally just coming back from injury), for me, it means SAMPAOLI is desperate, has not decided on who will partner Nicolas OTAMENDI at the back (I hope the team plays a back four and not a back three) and wants to see if Ramiro can be that partner. It's become evident that Manchester City's Nicolas OTAMENDI will be a starting center back for the team and he's been solid most times when called upon.
Not particularly a fan of Federico FAZIO. Very slow and if SAMPAOLI is crazy enough to play a back three, the Roma defender is much too slow to play despite being tall. Somewhat of a surprise that Germán PEZZELLA got dropped so quickly. As mentioned, I'm very happy to see TAGLIAFICO included in the team. He can be the solution to our left back problem. SAMPAOLI mentioned in his press conference that he'll be looking at the domestic league for a right back which probably means he doesn't fancy MERCADO too much in that position. Also worth noting that Gabriel has not had his best season for Sevilla, form wise.
Seeing ACUÑA and SALVIO's names in the defense part of the list probably means that they will be deployed as wing backs. I'm all for experimenting, especially in friendly matches but the last thing I want is to see another Jonas GUTIERREZ playing as a right back at the 2010 World Cup type situation again. Nothing against GUTIERREZ at all but that was a disaster by MARADONA. I thought both ACUÑA and SALVIO had solid performances for Argentina, specifically SALVIO who ran his socks off and helped the team immensely against Ecuador.
The Argentina team – Midfielders
Javier MASCHERANO has always been a no-brainer. Interesting to see that this time around MASCHERANO's name is under the midfield part of the list. While I have no doubt that MASCHERANO will take part in his fourth World Cup and is there because of experience, I'm not sure if he should be starting. He's definitely slowed down a step which is normal but at this stage in his career, he probably should not be a starter at the tournament. I would very much like to see Leandro PAREDES start and get a full 90 minutes to see what he can do in midfield. While I don't expect him to light it up, he definitely has enough talent in him to play well and give the coaching staff something to think about. Manuel LANZINI is someone else I am excited to see play. Injuries definitely hampered his progression this season but he can add a different dynamic to the team in midfield if he can stay healthy. The squad lacks a player who can shoot from distance and LANZINI can help in that department.
Giovani LO CELSO should definitely be on the team but likely as a substitute and not a starter. He has played very well for Paris Saint-Germain this season but has shown that the big matches might still be too big for him which is extremely normal. But one that should be on the plane to Russia. Lucas BIGLIA continues to find himself not only in the team but as a starter. Had management properly done their job following the 2014 FIFA World Cup (or at the latest the 2015 Copa America), BIGLIA wouldn't be starting for Argentina but here we are in 2018 and he'll be in the eleven come kick off against Iceland. From tattoo'd midfielder to another, Éver BANEGA is an extremely frustrating player to watch. Said it before and I'll continue to say it. On his day, BANEGA can be the best midfielder in the world. On any other day, he'll make Lucas BIGLIA look like Fernando REDONDO. There appears to be no middle ground with Éver. Either he's on top of his game in the match or he's the worst player on the pitch. Sadly, it's too big of a risk to take and he's another one I'd like to see benched although like BIGLIA, I think he starts on June 16 against Iceland.
Ironically enough, the player which most of us like to criticize, Angel DI MARIA, is the midfielder in best form. Playing fantastic since December, DI MARIA is being rotated regularly and continues to score and maintain a top level form. Come the World Cup, this could be the first time DI MARIA is 100% heading into a tournament for Argentina since the 2008 Summer Olympics. He linked-up very well with MESSI against Ecuador and if we're being honest, probably has the best chemistry on the Argentina team with MESSI (along with Gonzalo HIGUAIN), even more so than Sergio AGUERO. DI MARIA's problem remains decision making and if he hasn't picked that up yet at his age, probably never will.
The Argentina team – Forwards
In attack, Gonzalo HIGUAIN inevitably finds his way back into the team. I'll be the first to raise my hand and say I have probably been the most outspoken person in regards to HIGUAIN (follow my Twitter account and you'll know what I mean). But at the same time, I've always felt it would be difficult to keep him out and I truly think he will be at the World Cup. The experiment with ICARDI (who I think needs more time with the squad) didn't work as much as SAMPAOLI probably would have liked to have seen and thus HIGUAIN is back in fighting for a chance for Russia. Although it must be noted that ICARDI was thrown into the fire having not played a match for Argentina since 2013, he had all the responsibilities on his shoulders to perform in matches when the team was (in many ways still is) in shambles.
MESSI is MESSI, literally nothing more to add. Sergio AGUERO is a worry. His numbers are up there with the best forwards in the world. However, as has been the case more often than not with Sergio, he reaches tournaments injured or at the very least not fully fit. At the current rate, he'll probably be burnt out for the World Cup. I'm not saying anything no one already doesn't know which is he can be absolutely deadly in front of goal, extremely sharp. But his form has always been a worry. The last forward on the list is Diego PEROTTI. Personally, I'm a fan of PEROTTI and I've always wanted to see him get a proper chance with the squad, these two matches could help him solidify a spot for the World Cup.
The exclusions of Paulo DYBALA and Mauro ICARDI shouldn't be too much of a worry although I think only one of the two make the final 23 for Russia. Once more, if I were to put money, I'd say DYBALA makes the final World Cup squad with Mauro ICARDI missing out in place of Lautaro MARTINEZ. Both DYBALA and ICARDI have not been in the best of forms lately and I can't see SAMPAOLI going with MESSI, DI MARIA, HIGUAIN, AGUERO, DYBALA, ICARDI, PEROTTI, PAVON and MARTINEZ. At this point, the Inter man appears to be behind Gonzalo HIGUAIN, Sergio AGUERO and Lautaro MARTINEZ (who hasn't even been selected yet) in the pecking order of number 9's for SAMPAOLI.
Jorge SAMPAOLI and the Argentina team
The verdict is very much still out on the coach. A pass has to be given for what was accomplished (barely) in the last four matches of World Cup Qualifying. Any coach in the world would have found it very difficult. And to be fair, the players missed some fantastic chances in those matches which cannot be blamed on SAMPAOLI. The worrying aspect were the matches against Russia and Nigeria but even at that, difficult to judge. These two games against Italy and Spain should give us an idea as to which direction the team is going and what SAMPAOLI is attempting to do with them.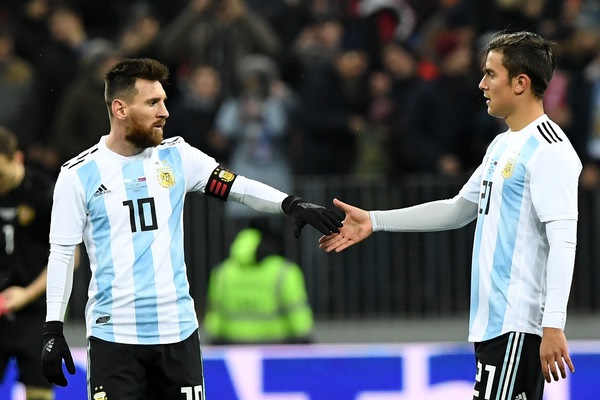 If we see a back line of four players in these two games, it could mean that he's finally opted to dropping the crazy 3-man back line idea which Argentina doesn't have the players to field. If we still see three at the back, well, it will be very worrying. I'd expect to see MESSI play only one of the two matches or at the most play in both matches but not 90 minutes. Lots of questions will be asked going into the games against Italy and Spain and I feel as though more questions will be asked than answered when those two games are over.
Based on the current players selected, I'm expecting a midfield duo which consists two of MASCHERANO, BIGLIA and BANEGA. I can't see SAMPAOLI opting for PAREDES over any of them. Does DI MARIA play in midfield on the left or does he occupy the front left? Is MESSI on the right? Do we get TAGLIAFICO as a left back or does that position oddly go to ACUÑA or Marcos ROJO? Will SAMPAOLI surprise us all and have TAGLIAFICO as left back, drop DI MARIA and have ACUÑA as left midfielder? There's still the domestic based list and all signs point to Cristian PAVON getting the call. Does he get the start? If so, in what position as SAMPAOLI doesn't seem to like the conventional.
Everything the coaching staff does will be put under a microscope but hopefully we get to see two matches where the team actually plays as a team and not dependent on one player as we have seen many times in the past.