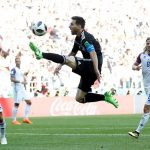 @dontbethatguy
active 1 year, 3 months ago
Intelligence is the ability to solve a problem that you choose to solve or that you are forced to solve. Wisdom is choosing the right problem to solve in the first place or refusing to solve the one chosen for you. Intelligence+Wisdom=True Power Experience: Familiarity with a skill or field of knowledge acquired over months or years of actual […]
View
I'm a 22 year old dude born and fatting myself in India. But let me tell you something and make it clear that although being an Indian by birth I'm completely Argentine at heart. And no one can take that from me. Even you Argentines too( Lollll).

Argentino de corazon

"EL MASCHE" and Choripan are now friends 2 years, 2 months ago

Vamos, vamos Argentina,
vamos, vamos a ganar,
que esta barra quilombera,
no te deja, no te deja de alentar.