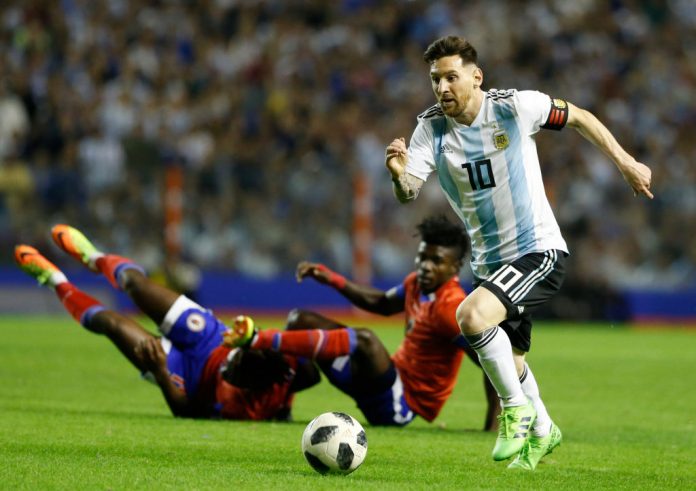 Argentina played a friendly "despedida" match against Haiti last night, taking care of the Caribbean side 4-0 and leaving their home country with a good feeling and hope for the coming month-plus.
A total of 17 players took part in the match, as six substitutions were allowed. Notable players like Paulo DYBALA, Lucas BIGLIA and Gabriel MERCADO weren't used, the latter two likely due to carrying knocks.
Here are the players who participated and their ratings for their performances in the match.
Starters
GK Willy CABALLERO
Didn't get even a sniff of the ball outside of a few pass-backs. Not the best match to judge him on.
Rating: N/A
LB Nicolas TAGLIAFICO
Consistently got forward and provided another form of attack from the left flank. Tracked back well on defense when needed and showed passion and energy. Has earned his spot as the starting left back at the World Cup.
Rating: 8.5/10
CB Federico FAZIO
Wasn't tested in defense, but he had a couple of loose passes and didn't look all that comfortable. Still likely to start against Iceland, but Marcos ROJO looked more assured than him.
Rating: 6/10
CB Nicolas OTAMENDI
Like FAZIO, wasn't threatened all that often, but he stepped up and cut out passes when the opportunity arrived. Also made some stellar long passes from his deep position.
Rating: 8.5/10
RB Eduardo SALVIO
Playing in an unnatural position, SALVIO held up well and consistently got forward with pace and dribbling ability. Committed one or two unneeded fouls and got himself into a few precarious situations with the ball, but played well overall.
Rating: 7/10
CM Javier MASCHERANO
Earning his Argentina record 143rd cap, MASCHERANO looked like the younger version of himself at times, making several important tackles in the midfield. He also created a fair share of chances with long passes. Perhaps El Jefecito isn't over the hill just yet.
Rating: 7.5/10
CM Giovani LO CELSO
LO CELSO appears to improve as every match goes by. The 22-year-old attacking midfielder has played center mid for both PSG and Argentina as of late. In this match, he seamlessly linked the defense with the attack and always made the right decision. His movement with the ball, great vision and ability to make sound tackles in defense has made him indispensable for SAMPAOLI.
Rating: 9/10
LM Angel DI MARIA
DI MARIA's only saving grace at this point is that he's willing to take on defenders and never gets tired, which allows him to track back on defense. His final touches/decisions are nothing short of terrible at this point and he doesn't even look at TAGLIAFICO when he makes forward runs from his left back spot. Cristian PAVON did more in his first few minutes on the pitch than DI MARIA did in an hour. SAMPAOLI has a conundrum on his hands.
Rating: 4.5/10
RM Manuel LANZINI
Didn't quite recreate the magic of his performance against Italy, but was solid with the ball at his feet and connected well with MESSI and the other attackers.
Rating: 6.5/10
CF Lionel Messi
What more is there to say about the guy? In the team's farewell match, the captain notched a hat-trick and an assist and sent the team off in style. This might be the best condition and form MESSI has ever arrived to an international tournament in.
Rating: 9.5/10
ST Gonzalo Higuain
As has become customary, he missed one too many chances and just seems lost for confidence right now. He can't be counted on as the starting number nine, especially for a team that's starving for goals.
Rating: 5.5/10
Substitutes
CB Marcos ROJO
Like all of the other center backs, ROJO wasn't given opportunities to defense, but seemed more comfortable than FAZIO. Made a couple of good passes and could prove to be a threat to FAZIO's starting spot.
Rating: 7/10
RM Maxi MEZA
Came on for LANZINI and played more of a midfielder role than he did against Spain. Took on defenders at times and had a couple of link-ups with MESSI. Also tracked back well and covered for SALVIO when he got forward.
Rating: 7/10
LM Cristian PAVON
Seven minutes after stepping on the pitch, PAVON assisted MESSI's third goal by weaving his way through three players and lacing a left-footed pass to the middle of the box. He was a bit unsettled at first, but got more comfortable as the nerves wore off. PAVON's dynamism and clever decision making will force SAMPAOLI to give him a lot of playing time in Russia, possibly at the expense of DI MARIA.
Rating: 8/10
ST Sergio AGUERO
There should be no more debate as to who Argentina's number nine needs to be. AGUERO's goal 10 minutes after coming on was vintage, as he held off a defender with his impeccable lower body strength, caught up to a MESSI through ball and lifted his finish past the goalkeeper. Looked lively, both when making runs and when dropping back and passing. Argentina needs AGUERO to stay healthy for the entire World Cup.
Rating: 8.5/10
LB Marcos ACUNA
Got about 20 minutes of action, but Argentina was content to pass the ball around the middle of the field by that point.
Rating: N/A
CM Ever BANEGA
Only played 15 minutes, but he has fallen way behind LO CELSO in the pecking order. Still could prove to be valuable in Russia when Argentina needs to hold the ball with a lead.
Rating: N/A