The name Julio Cruz for Argentina fans doesn't bring back good memories but the older one's will remember a bloody incident in a World Cup qualifier in Bolivia.
June 30, 2006 is the date which many Argentina national team fans associate with the tall striker. It was Argentina playing hosts Germany in a quarter final match at the 2006 World Cup. Jose Pekerman had Lionel Messi, Javier Saviola, Pablo Aimar and Julio Cruz on the substitutes bench. A squad of who's who for the two time world champions.
Juan Roman Riquelme was infamously replaced by Esteban Cambiasso while Hernan Crespo was brought off in favor of Cruz that night in Berlin. It had many scratching their heads. The match would ultimately go to penalty kicks where Cruz would score his but the Germans would advance to the semi finals.
For Cruz however, it all started with Banfield way back in 1993 where he spent three years with his native club. After that came a short stint at River Plate where he won the Argentine Primera. In 1996, Europe came calling. Three seasons with Feyenoord in the Netherlands saw el jardinero (the gardener) win the Eredivisie as well as the Johan Cruijff Shield.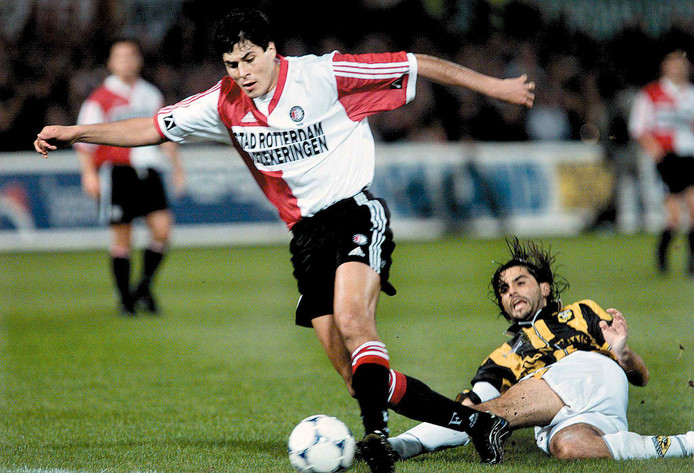 Cruz was slowly making a name for himself and would leave the Netherlands to start a decade long career in Italy. Despite going trophy less for three years while at Bologna, the Argentine international amassed only seven goals in 27 games in his debut season. He would go on to score 10 the next season and another 10 after that.
Inter would come knocking during the 2003-2004 season. Just like in his debut season in Italy, Cruz would score seven goals in his first campaign. After that came just five goals in 17 matches. But it was during the season leading up to the World Cup where Cruz was averaging almost a goal a game in the league.
A total of 15 goals in 31 games in the league (21 in 46 season in total), the Argentina man would score more than team mate Adriano that season in the league as the Brazilian finished with 13 goals in 30 games. In his last four seasons in his career (his last one coming in 2009-2010 with Lazio), the former Banfield man would go on to score 26 goals.
During his time with Inter, Cruz would score some big and important goals for the club. A free kick vs. eternal rivals AC Milan, a number 9 poacher's goal once more vs. Milan, a match winner vs. Buffon's Juventus, a goal in the Coppa Italia final where he rounded the goalkeeper vs. AS Roma where he displayed speed and dribbling, another match winner vs. Juventus, this time off a free kick, a chip goal which was the winner away to Arsenal in 2003 in the Champions League and a match winning header once more vs. Juventus.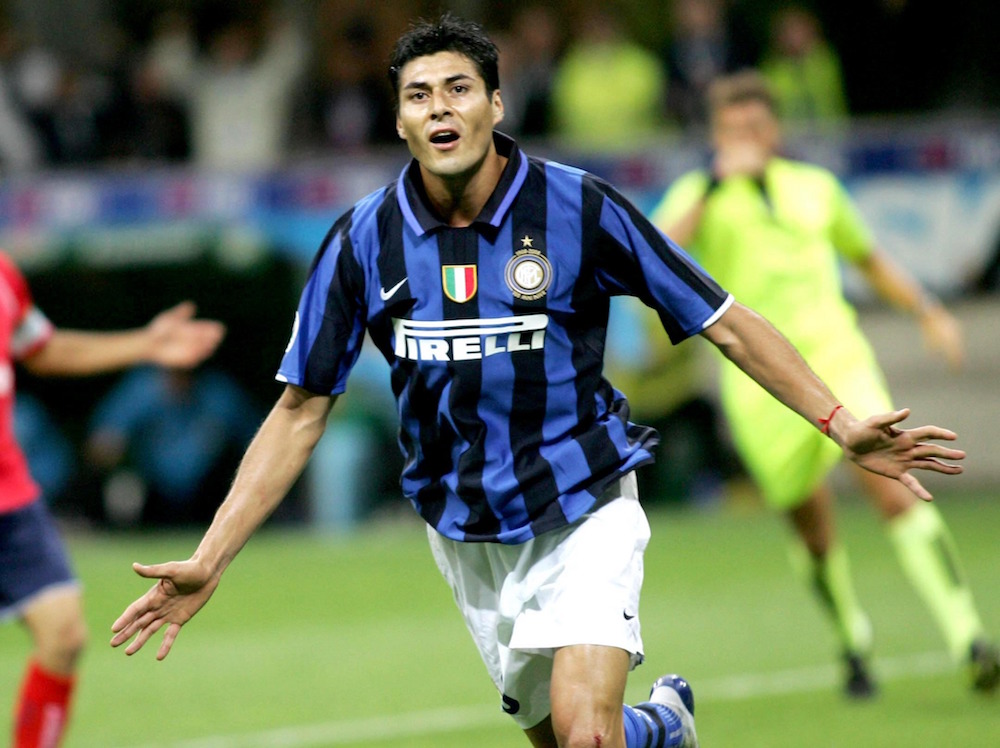 All of this while winning multiple Serie A titles as well as Coppa Italia and Supercoppa Italiana titles. He can shoot, take free kicks, solid in the air, hold the ball up well and a physical presence, it's no surprise Pekerman selected him in 2006 for the World Cup.
For the Argentina national team, Cruz was part of the 1997 Copa America squad where Argentina were knocked out in the quarter finals. During his time with the Argentina national team, Cruz would score only 3 goals. His career with the sky blue and white was from 1997 up until 2008 with coach Alfio Basile in charge.
Like others before and possibly even after him, Cruz was never given a proper chance with the Argentina team. When he was first starting off his career, Cruz was up against the likes of Gabriel Batistuta, Hernan Crespo, Martin Palermo and Claudio Lopez. In his prime, it was Hernan Crespo, Javier Saviola and two young stars in Carlos Tevez and Lionel Messi.
However, during his time with the Argentina team, there was one match, one incident at the very start of his career which has been overshadowed. It was a 1998 World Cup qualifier in La Paz vs. Bolivia. April 2, 1997. Coach Daniel Passarella had sparked a fire before the match saying that the game can't be played at altitude. Tensions were high going into the game which saw Bolivia get a 2-1 victory.
It had 3 goals, a red cards and some fights to say the least. Julio Cruz went to collect a ball which went out where he was grabbed by someone from the Bolivian staff. Many people surrounded Cruz and a punch was thrown which hit Cruz in his right eye. He had to be carried off to the locker room. Images later surfaced which saw a bloody Cruz in the locker room. It remained a scandal for the days and weeks which followed.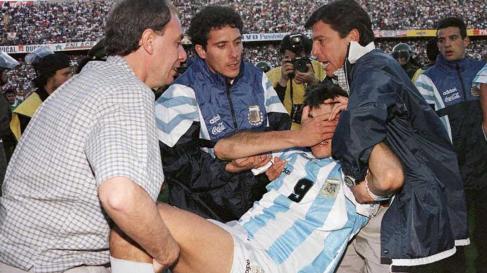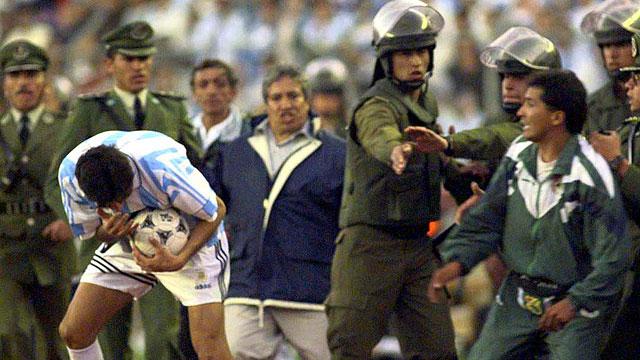 Julio Cruz after being hit in the World Cup qualifier vs. Bolivia.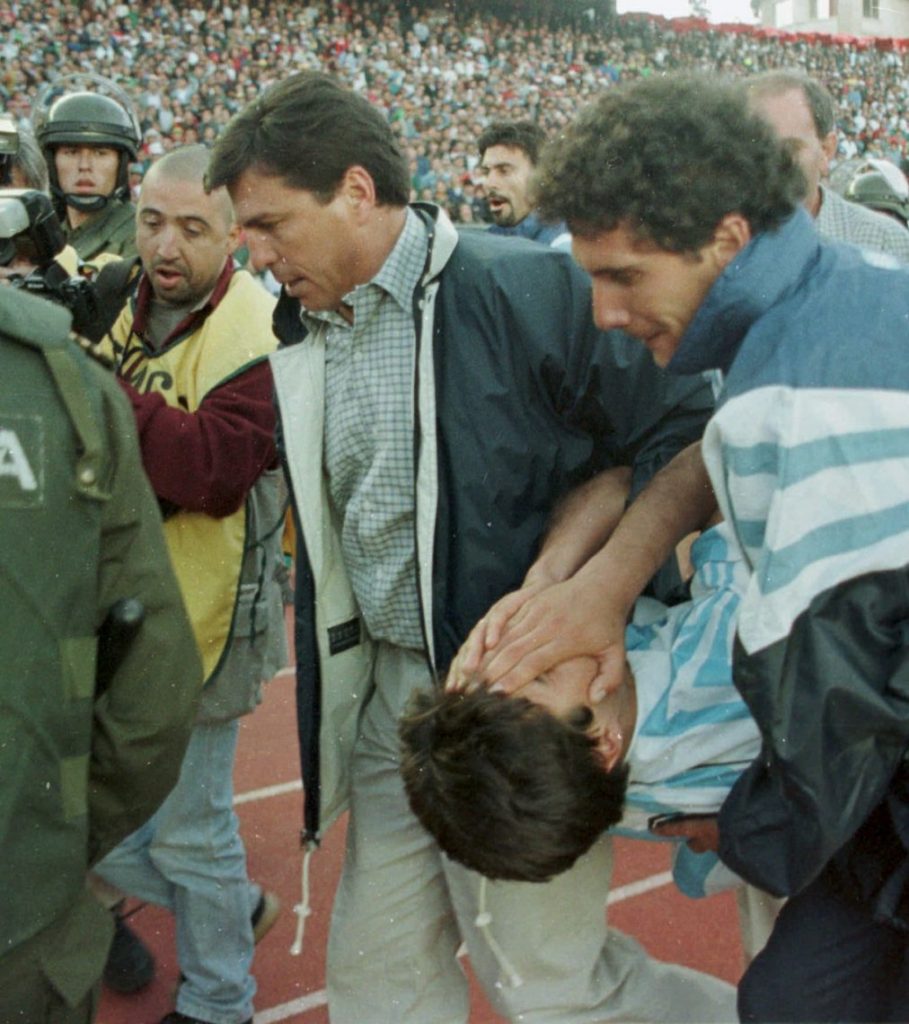 Julio Cruz after being hit in the World Cup qualifier vs. Bolivia.

Footage of the punch as well as the goals are all included in the video below.
In direct competition with Hernan Crespo, he was ultimately not selected for the 1998 World Cup in France as it was Crespo who was the chosen by the coach.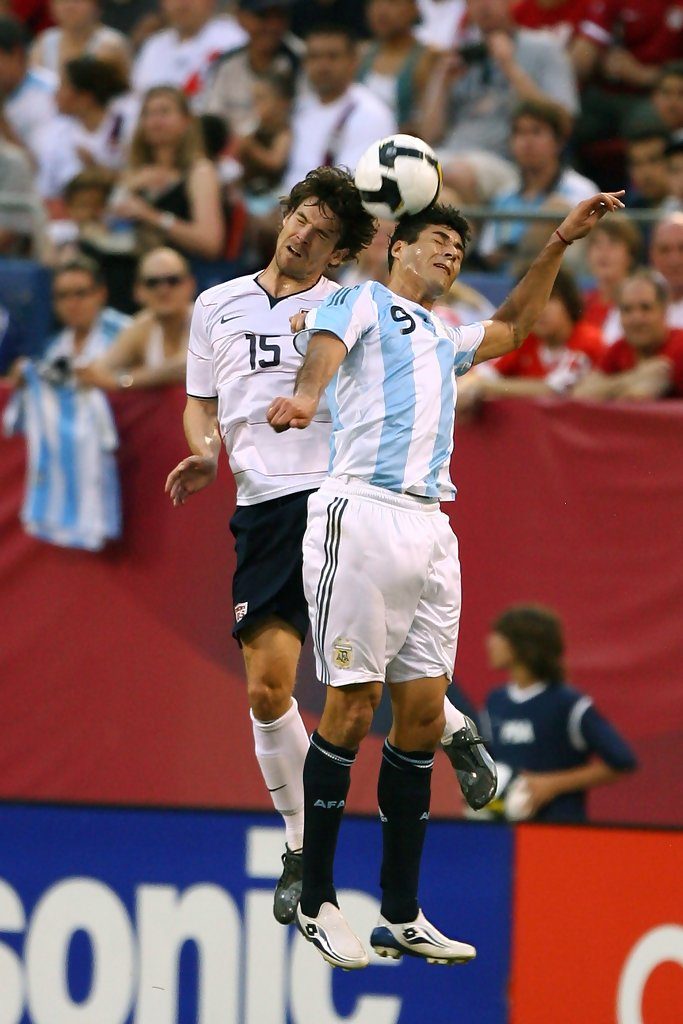 Arguably Argentina's last real tall striker, Cruz, now 45 years of age, stands 190 cm, 6 ft 3 inches tall, he had a great club career but with his country, always played more of a substitute role. A national team career which saw him represent his country on and off for over 10 years, Cruz truly was the forgotten man.
Julio Cruz: Argentina International Goals – Senior Level
| | | | | |
| --- | --- | --- | --- | --- |
| # | Opponent | Competition | Date | Result |
| 1 | Mexico | Friendly | July 9, 1999 | Final 2-2 Draw |
| 2 | Wales | Friendly | February 13, 2002 | Final 1-1 Draw |
| 3 | Qatar | Friendly | November 16, 2005 | Final 3-0 Argentina |