On this day 35 years ago, Argentina won their second FIFA World Cup in Mexico 1986, after beating West Germany 3-2 in the final. With Diego Maradona as the leader on the pitch, and coach Carlos Bilardo commanding from the sidelines, the national team would reach eternal glory.
On June 29 of 1986, Argentina would face West Germany at the Estadio Azteca in Mexico City with an attendance of 114,600, which remains to this day the second largest World Cup final attended (only behind the 1950 final, at the Estadio Maracana, Brazil).
Jose Luis Brown would score with his head to give Argentina the lead after a precise cross from Jorge Burruchaga, a cross that Germany goalkeeper Harald Schumacher was not able to intercept.
In the second half, Argentina would go on to extend the difference to two goals when Jorge Valdano found himself face to face with Germany's goalkeeper. A class finish, opening his right foot at the last moment, placing the ball at the far post.
Argentina was up by two with 30 minutes left and it seemed that the team was heading towards a comfortable victory. The second ever World Cup finals win in the history of the national team was closer than ever. The players just needed to hold on.
But Germany would score the 1-2 at the 74' and tied up the game at 2 at the 82'.
Fortunately, Argentina's desperation didn't last long as three minutes after Germans drew level, Jorge Burruchaga scored Argentina's winning goal, following a memorable run.
Argentina's captain and legend, Diego Maradona, lifted the trophy with immense joy. Argentina's center-back during that tournament, Oscar Ruggeri, told many times afterwards that it was impossible to take the trophy from Maradona's hands as he was carrying it all along the fly back to Argentina.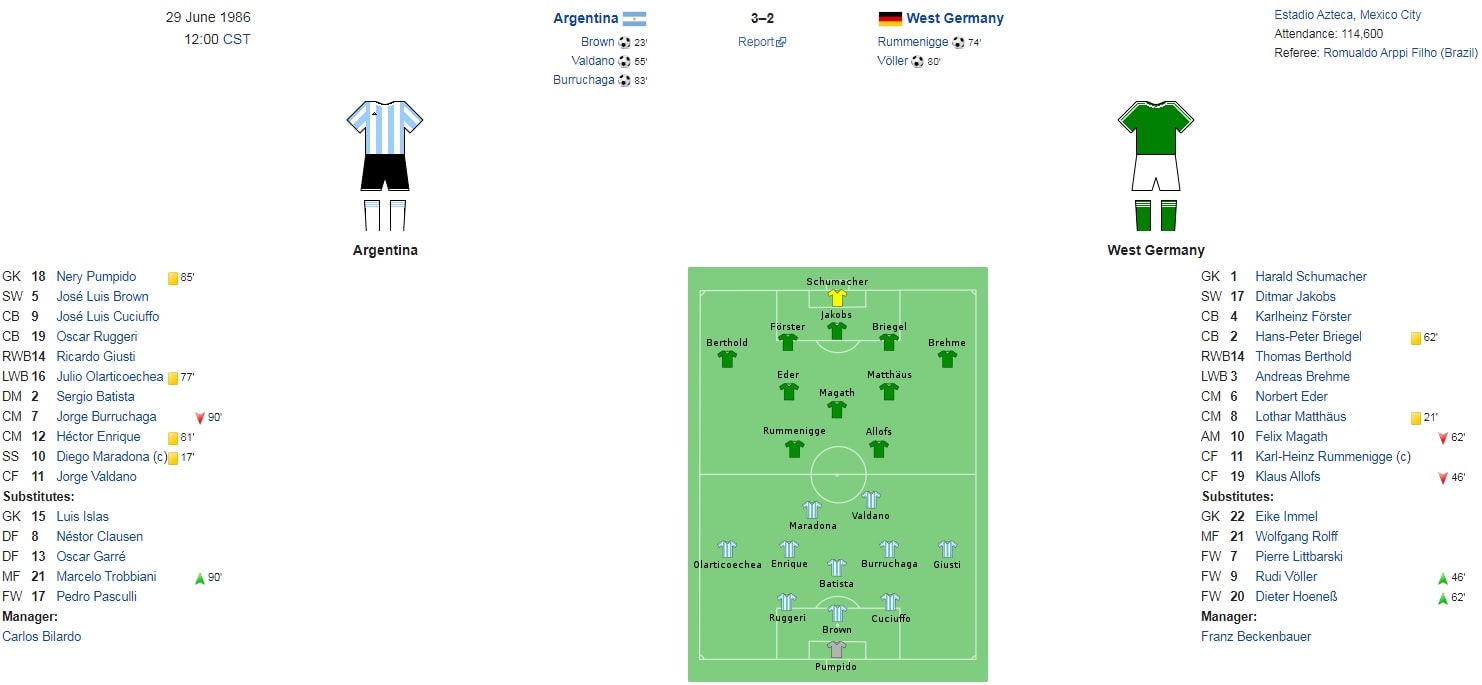 Oscar Ruggeri, today working on the Argentine TV, recently affirmed that the players and coaching staff from that historic team are in a Whatsapp group called "Champions 86", where they are all still in touch.