Three points in the bag. Watching every team in the World Cup play (including our mighty neighbours, the Brazilians), I've got say in our day, we can beat anyone.
There are, however, a lot of perils and hidden enemies in every corner. With the same scenario (a narrow win against an African team in our debut and playing in the 'Group of Death') we faced England four years ago and we lost 1-0 (Beckham from the penalty spot) and then we crashed dramatically with a draw against Sweden in the third match.
Now there are people looking very confident with our team and to some extent they are underestimating Serbia & Montenegro. I'm not one of them. I do feel confident and I like our team, but for no reason in this world, I'll count the three points against Serbia & Montenegro before the final whistle.
If we do that, then we will have to look no further than to ourselves to look for our most dangerous enemy. I think in a way, José PEKERMAN did it against Ivory Coast. With a lot of water still running in the second half, he made a couple of conservative substitutions and we ended up risking a result we worked very hard to get in the first half.
The latest news in our preparation for this Friday's crucial second group match are the probable inclusion of Luis 'Lucho' GONZALEZ in the starting line-up. He'll replace Esteban CAMBIASSO in an attempt to improve what was our weakest link against Ivory Coast: midfield.
Lucho GONZALEZ will leave more room for MASCHERANO in the centre of the field for him to do what he does best: run around stopping opposing midfielders and stealing a lot of balls.
Skipper Juan Pablo SORIN will help out also in midfield so Lucho GONZALEZ and Maxi RODRIGUEZ will have a little more liberty trying to run forward and help RIQUELME-SAVIOLA and CRESPO. This trio is confirmed and they will play again from the start.
I expect Serbia & Montenegro to feel the need to do what they didn't against Holland: attack from the start.
The Serbs' main strength during their qualifying campaign was their defense (only 1 goal conceded –against Spain in Spain!-) and based on that solid back line, they punished with thunderous counter attacks, finished often by Mateja KEZMAN and Savo MILOSEVIC.
Without Nemanja VIDIC (Manchester United), injured for the rest of the World Cup and with some controversies between the manager and his players, they could find in Argentina, a very good incentive to 'galvanise' and play without any fear. Those are the most dangerous opponents A draw won't be a good result for any of the two teams, but it would definitely harm the Serbs' chances a little bit more than ours. Will they risk to attack Argentina from the start and free their midfielders to send them forward leaving their backs uncovered? Will they wait and see what Argentina proposes? I think no matter what, Argentina has to respect history this time and attack from the very first second. We have to control the ball and the pace of the game and victory will be ours.
I've been receiving a lot of messages (muchas gracias! Messages from Indonesia, Somalia, USA, Kenya, Papua New Guinea, Australia, people from India, Colombia and Trinidad & Tobago –come on Soca Warriors!- living in the States! Thank you very much for your e-mails) and in most of them there is one question that still has no answer: will Lionel MESSI play in this World Cup?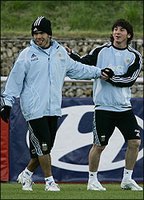 This afternoon (June 14th) he had to leave the training session with a knock in his left foot but apparently it is not serious and he will be able to play against Serbia & Montenegro if PEKERMAN wants it. I feel the time has come. I feel he will jump to the field at some point during the second half, no matter the result or the circumstances. If we are winning comfortably, to make his debut and gain a precious experience. If we can't break their defense, to try and do it through his amazing pace and mercurial talent. And if we are losing, because he is the best talent in our team and people will want to have a word or two with PEKERMAN if MESSI is nowhere to be seen in the field.
Will you watch the game? Will you skip a day at the office to follow Argentina? Are you superstitious? Do you have your rituals?
I'll be watching it. Waking up very early in the morning (kick-off is at 10 AM but I want to see all the previous shows starting probably at 7 AM!). We'll be four people in front of the TV and I expect a thousand screams (hope they are all for the good reasons!) and a lot less food for breakfast (can you eat before the match????).
I can't wait for Friday! Bring it on!
VAMOS ARGENTINA!