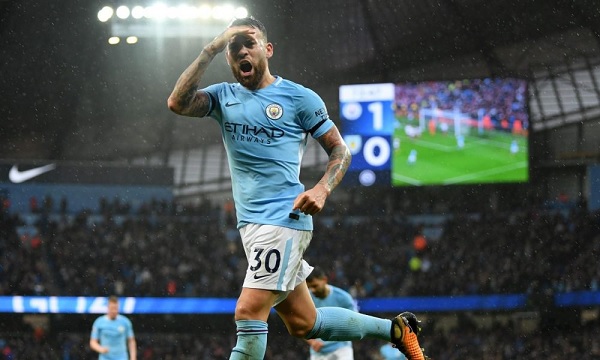 Manchester City coach Pep GUARDIOLA couldn't stop praising Nicolas OTAMENDI.
Most of the time, it's the attacking players which get all the spotlight. But not in this case. GUARDIOLA singled out Nicolas OTAMENDI as he was full of praise for the defender. Last season wasn't the easiest of campaign's for OTAMENDI following a move from Valencia back in 2015 but the Argentinian is slowly changing people's minds. Speaking to reporters prior to Manchester City's 3-0 win against Burnley (where both OTAMENDI and his compatriot Sergio AGUERO scored), here's what GUARDIOLA had to say:
Pep GUARDIOLA praises Nicolas OTAMENDI
"I had a lot of doubts whether Nico would play or not against Stoke City because he travelled from Argentina with 10 days with a lot of pressure to qualify for the World Cup in his mind.
"He played in difficult conditions in Ecuador, travelled and arrived the day before. He is one of the players with the strongest mentality that I met in my life.
"He's a guy who just wants to learn, in terms of ball possession, because always he was strong in the air. He really wins duels, which is necessary here in England, everywhere, but especially here in England, and how he has the courage to play. Even when he makes mistakes it doesn't matter.
"I said before that if he loses a game he says 'Give me the ball again and let's play,' and I give a lot of value to this kind of thing.
"I'm really impressed with the level he has and I'm so happy with him. He's not afraid at all, it doesn't matter where he plays, he has a lot of experience.
"He's such an important guy for us. The last month, well I think all season, he has played outstanding."
Nicolas OTAMENDI returned the praise, here's what he had to say about his coach:
Nicolas OTAMENDI praises Pep GUARDIOLA
"After the match, we are obliged to eat together. Nutrition and rest are important because we play continuously.
"GUARDIOLA is quite picky with diet and not only that: He tells us that we all have to learn English. This is because team meetings are in this language, and in December I have an exam. GUARDIOLA does all these things so that we can perform in the best possible way. These things help the team function.
"He is omnipresent and not only for football. He always asks how things are going with out family and everything else."