For the first time since the 2006 FIFA World Cup, someone other than Sergio ROMERO will wear Argentina's number 1 shirt.
Per a report by Ole, Nahuel GUZMÁN will wear the Argentina shirt even though he appears to be the third choice goalkeeper. Here are the rumored numbers to be given to the Argentina players for the World Cup.
1. Nahuel GUZMÁN
2. Gabriel MERCADO
3. Nicolás TAGLIAFICO
4. Cristian ANSALDI
5. Lucas BIGLIA
6. Federico FAZIO
7. Éver BANEGA
8. Marcos ACUÑA
9. Gonzalo HIGUAÍN
10. Lionel MESSI
11. Ángel DI MARÍA
12. Franco ARMANI
13. Maximiliano MEZA
14. Javier MASCHERANO
15. Manuel LANZINI
16. Marcos ROJO
17. Nicolás OTAMENDI
18. Eduardo SALVIO
19. Sergio AGÜERO
20. Giovani LO CELSO
21. Paulo DYBALA
22. Cristian PAVÓN
23. Wilfredo CABALLERO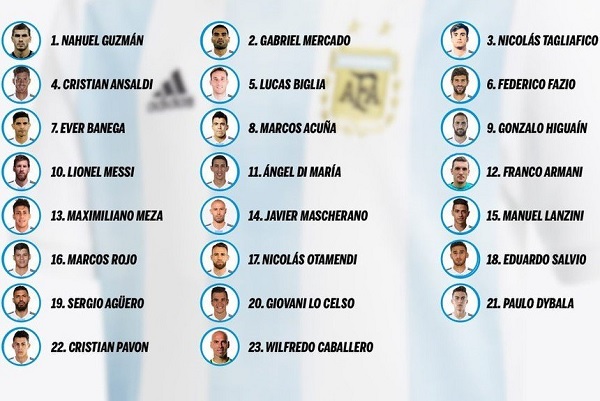 Gonzalo HIGUAÍN, Lionel MESSI, Javier MASCHERANO and Marcos ROJO would all keep the same shirt numbers as they did at the 2014 FIFA World Cup. Lucas BIGLIA would change from shirt number six to number five. Ángel DI MARÍA would go from number seven to number 11 this time around.