A big happy birthday to Marcos Rojo who turns 30 today!
Rojo has had an absolute roller coaster of a career with the Argentina national team. Making his debut for Argentina in a 2-1 win vs. Portugal in 2011, Rojo didn't have the best start to his national team career. Despite playing only a few matches, then Argentina coach Sergio Batista selected Rojo for the 2011 Copa America.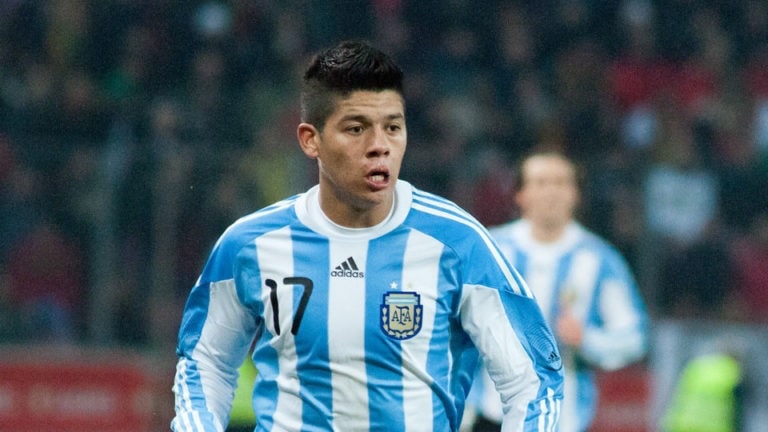 The center back turned left back only played one match in the tournament, a 1-1 draw vs. Bolivia. It wasn't the best match of his career as he was dropped from the starting eleven after that match. Batista would be replaced by Alejandro Sabella and Rojo's fortunes would slowly begin to change.
Alejandro Sabella knew Marcos Rojo from their Estudiantes days and would stick with Rojo for the first two 2014 World Cup qualifying matches. A Gonzalo Higuain inspired hat trick in the team's 4-1 win vs. Chile was followed by a shock 1-0 defeat to Venezuela in the next match. Rojo would not take part in the following two qualifiers but would gain many Argentina caps throughout 2012 and 2013 going into the World Cup.
Arriving for the big show in Brazil, Rojo was not only selected but the starting left back in the team. Initially seen as one of the weak links in the team along with Sergio Romero, the two would prove to be among Argentina's best players that tournament as they made the final. For Rojo, he would grab part of the headlines in the opening match vs. Bosnia-Herzegovina. A rabona from inside his penalty area to clear the ball would be and remains talked about to this day.
He would also score his first goal in the sky blue and white in Brazil. A goal off a set piece in the final group stage match vs. Nigeria would prove to be the winner and not the last time he would score in the last match of a World Cup group stage vs. Nigeria.
One of Argentina's best players of that tournament, Rojo's tricks weren't done there. In a World Cup semi-final, Rojo would find play a nutmeg pass through the legs of Arjen Robben as Argentina would make the final of the World Cup.
Next year's Copa America would see another Marcos Rojo goal and even another rabona. He would go on to also score at the tournament in the 6-1 win vs. Paraguay.
At this point, Marcos Rojo had already made a move to European and English giants Manchester United. His never say die attitude earned him the appreciation of the fans. In particular one moment where he reportedly lead a brawl vs. Manchester City. The infamous headline reads "A marauding bare chested Marcos Rojo" who lead United through a tunnel to fight Manchester City players.
With Rojo selected for the 2018 World Cup, the now experienced defender had one more ace up his sleeve. It was the final group stage match for Argentina and once more it was against Nigeria. The score was 1-1, it was mayhem off the pitch and on the pitch it wasn't too pretty for the two time world champions.
Argentina needed a goal or else they were heading out of the World Cup. But not to worry. Gabriel Mercado would play a cross into the penalty area and with Lionel Messi and Gonzalo Higuain there, it was Marcos Rojo of all people who would strike it beautifully with his right foot and score. A finish even Gabriel Batistuta would be proud of. Rojo scored, Argentina celebrated, Diego Maradona put two fingers in the air and the legend of Marcos Rojo just got that much bigger and better.
No longer a focal point of Argentina's back line, Rojo was part of two World Cup and two Copa America squads for Argentina. Taking part in three finals, saving Argentina in one World Cup, all the while proving many doubters wrong. Now back on loan at Estudiantes, Rojo is looking to be back in the Argentina national team.
Happy birthday to Marcos Rojo!