Martin Palermo gave an interview with the AFA website where he spoke about his goal vs. Greece at the 2010 World Cup, the famous World Cup qualifier vs. Peru and much more.
Palermo had a rollercoaster ride with the Argentina natiomal team. From missing three penalty kicks at a Copa America to keeping Argentina in the running during the World Cup qualifiers and a goal at a World Cup. Speaking with the AFA, here's what he had to say:
If he had to put together a special regarding his goals, which goal he scored for the Argentina national team would be in first place?
"For me, the goal vs. Greece is the most important one because it was at a World Cup and I was 36 years old. My parents, my wife, my eldest son, my friends were there. And they were just as emotional as I was. For that reason, playing those minutes in any match was very special. More than anything I have lived as a player, putting on the Argentina national team shirt is something unique."
With the career he has had, where does the 2010 World Cup place?
"No doubt, South Africa will occupy a place very important in my career. Had I experienced more World Cups when I was younger, the way I look at it would be different. But that Diego (Maradona) picks me at that age to live a World Cup experience was incredible.

"And on top of that, we had Messi in the group, so the hope was greater. People believed that we would go further, as did we. That's why the elimination was very hurtful."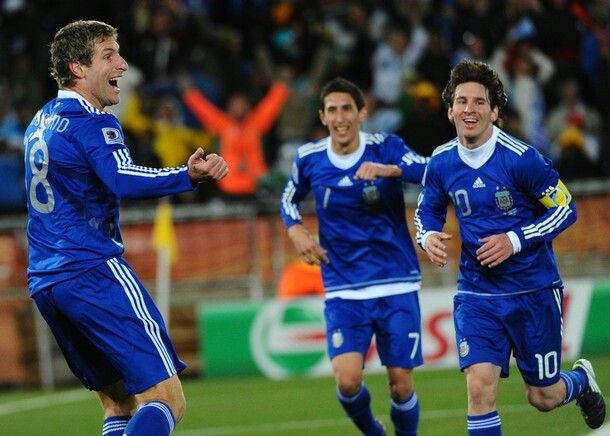 He mentioned Diego and Lionel, who he shared a pitch with. Other than those two, who else did he enjoy playing with in the Argentina national team?
"I have total admiration for them, they are extremely talented and surprise us with everything they do with the ball. After that, during Bielsa's cycle in 1999, there were great players like Simeone, Roberto Ayala, Mono Burgos, Sorin ans "Kily" Gonzalez.

"I also had the pleasure of sharing the team with my Boca team mates that were at a high level like Román (Riquelme), Guillermo (Barros Schelotto), Samuel and Ibarra."
If the Copa America that year left a sour taste in his mouth despite scoring several goals?
"We had started with a win vs. Ecuador with two goals which I scored and for me it was incredible that I was being compared to Ronaldo, Iván Zamorano, Salas. Then came that fateful night where I missed three penalty kicks (in the 3-0 loss vs. Colombia) and I felt like everything went to waste. I had to wait many years to be able to change my image with the Argentina national team."
If the match vs. Peru was the best image he has left with the Argentina national team.
"It was incredible for the context of it: The rain, the wind, the pitch was flooded, se needed to win in order to stay alive in the World Cup qualifiers. Peru's goal in the 44th minute of the second half was terrible.

"I was substituted in during the second half and I nearly had to come off because of a hit I took to the face. They had to put a cotton ball in my nose because blood was coming out and I couldn't breathe.

"But finally the match vs. Peru was like a script out of a movie. My goal, Diego's celebration and my emotions under the flood of rain. It was truly a movie."