Argentina U23 national team coach Fernando Batista has named his squad for this month's two friendly matches vs. Japan.
The likes of Adolfo Gaich, Ezequiel Ponce and Matias Vargas all made the team despite some notable names missing. Several of the players named for the matches helped the team qualify for the 2020 Olympic games and won gold at the Pan American games. Alexia Mac Allister, who played an important part in qualifying for the Olympics makes the list but it would not be impossible that he misses out due to the current COVID travel restrictions.
Of the 21 players in the team, seven of them have played for the senior Argentina national team. Those seven being Alexis Mac Allsiter, Nehuen Perez, Leonardo Balerdi, Lisandro Martinez, Santiago Ascacibar, Matias Zaracho and Adolfo Gaich.
Fernando Batista's Argentina team will play Japan, the hosts of the 2021 Olympics twice this month. The first being on Friday, March 26 with the second being on Monday, March 29 just a few days after their first match. Here's the squad for the two matches: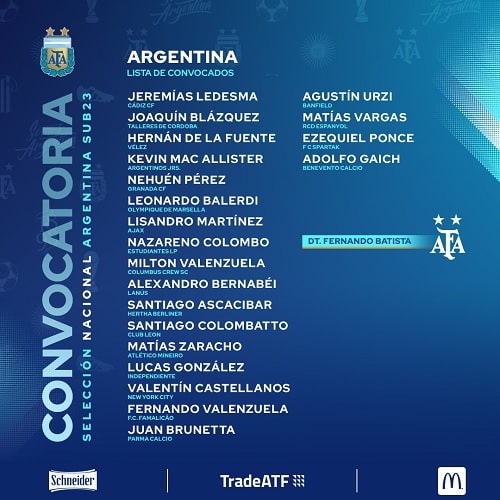 Jeremias Ledesma
Joaquin Blazquez
Hernan De La Fuente
Kevin Mac Allister
Nehuen Perez
Leonardo Balerdi
Lisandro Martinez
Nazareno Colombo
Milton Valenzuela
Alexandro Bernabei
Santiago Ascacibar
Santiago Colombatto
Matias Zaracho
Lucas Gonzalez
Valentin Castellanos
Fernando Valenzuela
Juan Brunetta
Agustin Urzi
Matias Vargas
Ezequiel Ponce
Adolfo Gaich