The rumored line-up for Argentina's friendly match against Israel on Saturday is already out and up front we would have Sergio AGÜERO and Lionel MESSI.
With the 4-0 friendly match against Haiti behind them, coach Jorge SAMPAOLI is working towards the last friendly match before the start of the 2018 FIFA World Cup. Per a report by La Nacion, SAMPAOLI put together a group of players doing exercises where they were pressuring the opposition (up against a sparring team). Among that group of players were Marcos ROJO, Lucas BIGLIA and Sergio AGUERO. And up front, Lionel MESSI.
It would appear as though the coach has the eleven in his mind but there is one real doubt. The starting goalkeeper. While Willy CABALLERO played in his fourth consecutive match for Argentina, he is facing competition from River Plate's Franco ARMANI. The following is the rumored eleven for the match against Israel.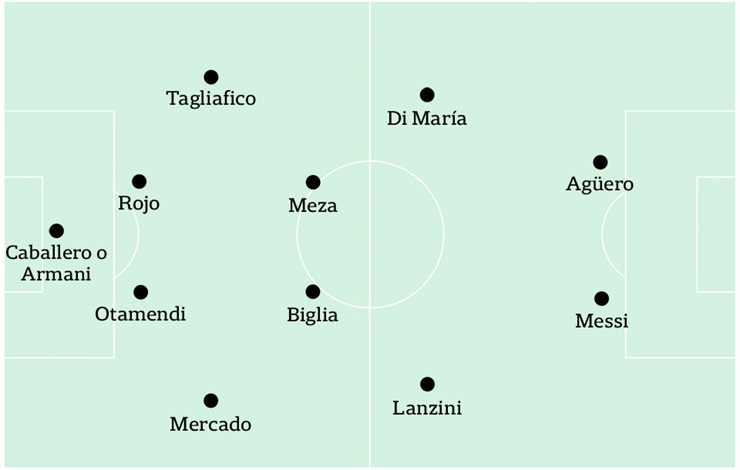 CABALLERO/ARMANI; TAGLIAFICO, ROJO, OTAMENDI, MERCADO; MEZA, BIGLIA; DI MARIA, LANZINI; AGUERO, MESSI
Per the report, when attacking, the two full backs TAGLIAFICO and MERCADO would move forward up until the invisible line where BIGLIA is standing and the other midfielders (LANZINI, MEZA and DI MARIA) would move up right behind AGUERO and MESSI. This would sort of explain the 2-3-3-2 formation which SAMPAOLI mentioned in one of his press conferences.
Per contractual reasons, should MESSI take part in the match, the AFA would get an additional 300,000 dollars to bring their total up to 1.4 million dollars for the friendly match. Federico FAZIO flew from Barcelona to Sevilla with SAMPAOLI's permission to witness the birth of his child. He will fly back to Barcelona at night.