Lionel MESSI gave a lengthy interview with TyC Sports where he discussed the Argentina national team, 2010 FIFA World Cup, the 2006 FIFA World Cup, the 2005 FIFA U20 World Cup, the Olympics, free kicks, his personal life and much more.
The Argentina captain once more gave a long interview as his team prepares for the 2019 Copa America. In regards to the current team, here's what he had to say:
"I feel very well, integrated. There's a beautiful group that is very anxious to do well. A really good group, with good people, beyond just football that have a lot of desire.

"We are going with the same desire and anxiousness as always but the truth is that Argentina are going through a process of change. For most, it's their first official tournament but it doesn't mean Argentina won't go wanting to win the Copa America. We are not candidates like other times.

"I finished the season more tired and frustrated mentally than physically because of what happened in the last fifteen days. Of the last few years, it was a season where I played less and I feel well."
The first time he wore the Argentina national team shirt:
"It was a spectacular moment for me, a moment I had wished would come. A lot had been done for that to happen because it was complicated during that time, I was playing in Barcelona and it wasn't easy to see me back then as it is with the kids now. It was a different time, it was a dream come true.

"Two friendly matches were setup against Paraguay and Uruguay for me to be able to participate, it was quick, rapid. It had to be done, it was the moment."
About playing with Argentina, MESSI said "in no moment" did he doubt playing for Argentina.
"We did everything, we kept sending videos and anything of mine for them to know me here. To see if I would have a chance to come here or not."
The FIFA U20 World Cup in the Netherlands:
"It was one of the most beautiful moments of my career. Not only for being champion but for the experience, living it, the group… I enjoyed it a lot and to top it off we were champions.
When celebrating the FIFA U20 World Cup, he wore a shirt saying "Mari, Bruno, Tomi and Angus." When asked who they are:
"My sister, my cousin, my nephews… At the time, they were the youngest of the family. I don't remember why I had that shirt.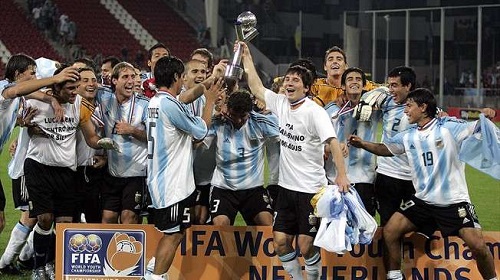 On the start of the FIFA U20 World Cup:
"I started off on the bench. We lost the first match against the United States and in the second, I started. I scored and I never came off ever. At the time, it seemed easy to win but it changed and it cost more. I have this, the Olympic games but when I say I want to win something, I mean with the senior national team."
MESSI also spoke about getting red carded on his senior Argentina national team debut:
"At that moment, it was terrible. My first match, that way… I didn't know what could happen after that, luckily, it was just an anecdote. I remember crying a lot, the biggest (players) called me, they sheltered me, they told me to calm down."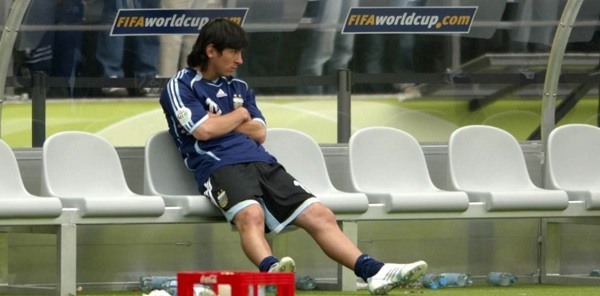 The Argentina captain spoke about his team's elimination against Germany at the 2006 FIFA World Cup and him not playing:
"On one hand, I was fuming for not having played but that doesn't mean I wasn't watching the game, that I wanted to win and to pass to the next round.

"When we were eliminated, the dressing room was terrible, tears, bitterness, I was the first one… I don't remember the moment they took that picture, the one with the boots, because there were no substitutions left. They started saying that I didn't watch the match, that I didn't care, that I was elsewhere… That's where everything started, ha (the criticism). I didn't think of it. It was idiotic. Yes, I was fuming because I wanted to come on (as a substitute) but I didn't want Argentina to lose because I didn't play."
On the struggle of being with the Argentina national team for the 2008 Beijing summer Olympics:
"GUARDIOLA was a phenomenon and gave me permission but it took someone from the club to control me. It's that at that moment, I was injured. I really wanted to go and I was constantly talking with people of the Argentina national team who were waiting for me until the last day."
On getting a visa:
"I went running from Italy to Barcelona to do the paperwork and to fly out that same night. I was unbearable, now I'm not as unbearable because time passes. But it showed on my face, I was angry at life. I just wanted to f*** off and I let it be known.
Winning gold at the 2008 Beijing summer Olympics:
"The title has a lot of value just like all the medals that you could win with your country. It's important and it's SIGNIFICANT. I enjoyed it a lot at that moment and we celebrated the way we deserved to celebrate.

"We were there only one time (at the Olympic village). We crossed some of the best sports athletes like Kobe BRYANT, Rafael NADAL, it was impressive. We asked them for photos."
On his dad:
"They talk more about my dad than other football players. They put him in the middle of a lot of things, myself as well but one thing is to talk about me as a football player and the other is of my dad.

"They would say that I would select players for the Argentina team, coaches… I can isolate myself and dedicate myself to playing but they suffer, the truth is that they are the one's who have a really hard time."
On dedicating a goal to his dad:
"It was a match against Uruguay that we won in the World Cup qualifiers. My father was going through a difficult time and the best way for me to be with him or close to him was to do that. I know what he enjoys in football, to see me play, he suffers a lot, it was a nice gift for him."
Leaving his family to be with the Argentina national team:
"It costs me to leave them (his family), it costs more every time. Every time it costs me more to be with the Argentina team setup, being far from them, I suffer."
MESSI spoke about the 2014 FIFA World Cup and the World Cup in general. When asked if he will win the World Cup:
"What do I know… God will decide if we will meet or not. It would be the highest thing possible, it's the biggest dream I have left to accomplish. To be so close at that World Cup (2014) was terrible because we deserved to lift it.

"It was the best moment, in general. We had an impressive group. It gets more complicated every time, no one gifts you anything and not letting in goals is very important, not giving space."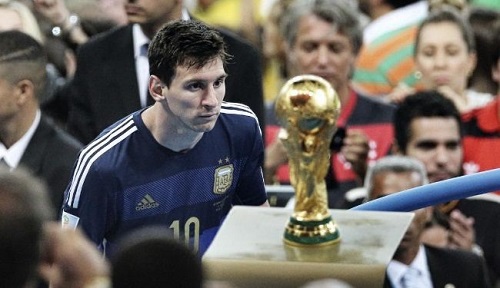 Lionel MESSI on wearing the number 10 shirt and being given the shirt by Diego MARADONA:
"The number 10 shirt is special, for where it came from, for who used it. The number 10 shirt of the Argentina national team was made important by Diego but for me, it doesn't change anything to wear the 10, the 11 or the number 9 shirt.

"When he gave me (the shirt) he told me he wanted to give me the shirt that he used, that he saw me preparing to wearing it and that it was the time, that I wear it and enjoy it.
On wearing the captain's armband for the first time and it being given by MARADONA as coach:
"It was something spectacular. They made me talk a little bit in the dressing room, ha. It was complicated but beautiful. I'm not one to say a lot, just what is necessary. Every one knows the importance of the matches.

"I'm captain in my own way. It's true that I grew up somewhere else and adopted other customs. It's a beautiful responsibility, one that I like and I manage it calmly."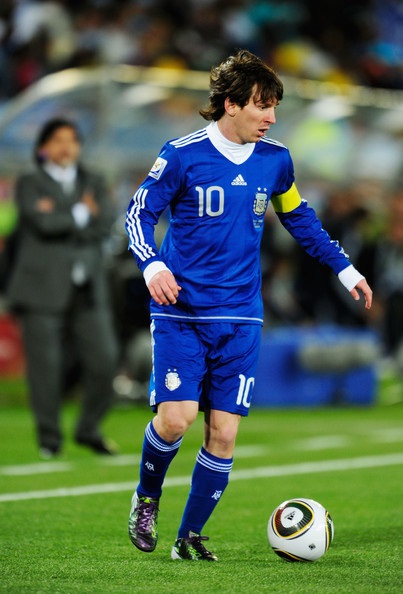 MESSI mentioned that it was coach Alfio BASILE who taught him how to take free kicks using Juan Roman RIQUELME as an example.
"He told me "get your baby foot up, you don't see how Roman does it?" I pull it slowly, I don't do it the same way. I was trying and at least I was always kicking it the same way. I wasn't kicking just to kick."
On the team play:
"Matches are tighter every time, more tactical, there's no space. Now, every time there are 11 guys in the area and quickly counter attack you.

"No one gives you anything, no one is exposed. There are few teams that want to play football, that have the ball, that open up and give you space."