A big thank you to the great Mouhamad Rachini who wrote the following about the late great Argentine goalkeeper Amadeo Carrizo who passed away just a few days ago. Make sure to follow Rachini on Twitter at ThatArabKeeper as well as his website, Between the Sticks.
–
When we think back to the iconic goalkeepers of the 1950s and 1960s, we often focus on two Europeans; Lev Yashin of the Soviet Union and Gyula Grosics of Hungary
For obvious reasons, these two are often credited with being the first modern goalkeepers. Yashin was well-known for his organizational skills, his vocal and physical command of his box, and for his eagerness to play off of his line. And Grosics was a big proponent of the sweeper-keeper style of play, and his willingness to handle the ball and act as an eleventh outfielder allowed Hungary to dominate international football in the early 1950s.
But while Yashin and Grosics were excelling in Europe, on the other side of the Atlantic Ocean, another goalkeeper was captivating South American audiences with his own brand of daring, revolutionary football. This was before the era of Hugo Gatti, René Higuita and José Luis Chilavert; in fact, those goalkeepers have cited him as being their inspiration.
From 1945 to 1970, South American audiences were entertained by a native of Buenos Aires, Argentina, named Amadeo Carrizo. 
No habrá ninguno igual. #AmadeoEterno 📜 pic.twitter.com/Mc5EwUU1Vz

— River Plate (@RiverPlate) March 20, 2020
Carrizo debuted in 1945 as a teenager, and he didn't call it a career until 25 years later at the age of 44. Between 1945 and 1970, Carrizo made over 600 club appearances.
Of those 25 years, 23 of them were spent in the service of the great Buenos Aires-based club River Plate. He made his club debut in the middle of the La Máquina era, where legends like José Manuel Moreno, Félix Loustau, Adolfo Pedernera, Ángel Labruna and a young Alfredo Di Stéfano had propelled the club to national dominance.
Carrizo won two Argentine Primera División titles with that set of players, as well as two Copa Aldaos, which was a precursor to the Copa Libertadores. Despite his young age — he accomplished these feats before he turned 22 — Carrizo was already showing signs of greatness.
But it was after the end of the Máquina era that Carrizo really shined. In 1948, Carrizo made 15 or more appearances in a single season for the first time in his career. A season later, he kept 15 clean sheets in 34 appearances, including 14 clean sheets in the league.
Three years after that, in 1952, Carrizo won his first league trophy in the post-Máquina era. Carrizo appeared in 22 matches and kept two clean sheets as River Plate won their first Primera División title since 1947.
Carrizo would go on to win four more league titles in the next five seasons, including three straight between 1955 and 1957. Carrizo made 169 league appearances between the 1952 and 1957 seasons, keeping 48 clean sheets.
This would prove to be Carrizo's most successful club tenure, although he did keep a career-high 16 clean sheets in a 1966 season that saw him backstop River Plate to the Copa Libertadores final.
Carrizo would call it a career four years later at the age of 44. By then, the Argentine had joined Millonarios of Colombia, with whom he had played two seasons with.
Despite playing his entire career as a goalkeeper, Carrizo wasn't actually too big of a fan of saving goals. In fact, he seemed to prefer scoring them.
"I always liked to play upfront. Those up front are the ones who have fun," he once told Un Cano. "The goalkeeper stands there like a sap hoping he doesn't concede. When he does everyone is already criticizing him – 'What did he do?' 'Why did he come out late?'"
This probably explains why, unlike most goalkeepers from his era, Carrizo refused to remain in the shadows. Instead, Carrizo took up a proactive role. He stayed in constant communication with his backline, alerting them of incoming danger and instructing them of potential offensive outlets. He would also open himself up as a passing option to a teammate under pressure, and when he'd receive the ball, he'd venture out of his box and take on opposition players, much to the shock of his teammates and fans.
One famous occasion occurred in a 1954 edition of the Superclásico. Carrizo obtained possession of the ball and was immediately hounded by Jose Borello. The Boca Juniors striker was one of the league's top scorers, and with Carrizo alone in possession, Borello attempted to unnerve the goalkeeper into giving up the ball.
But Carrizo had other ideas. Rather than mindlessly booting the ball out of bounds, Carrizo challenged his opponent mano-a-mano. Despite pressure from Borello, Carrizo dribbled around his adversary before laying it off to a teammate.
River Plate won the derby 3-0, and Carrizo's moment of magic was the game's main talking point.
Boca Juniors despide con respeto a Amadeo Carrizo, rival de tantas batallas y leyenda del fútbol argentino, y acompaña a su familia en este momento de tristeza. pic.twitter.com/xcedXqSRUj

— Boca Jrs. Oficial (desde 🏡) (@BocaJrsOficial) March 20, 2020
Carrizo played at a time when a goalkeeper's only job was to save shots, but the Argentine rejected that premise. Carrizo believed that a goalkeeper should be as comfortable handling the ball as any of his teammates. And although he didn't always come out on top, Carrizo was supremely confident in his abilities.
But Carrizo was as good with his hands as he was with his feet. The Argentine was an excellent saver of the ball, capable of stopping shots with two hands or one strong fist. Carrizo was particularly fond of handling the ball with one hand. In fact, one of his trademarks was rising for a deep cross and comfortably snagging the ball out of the air with one outstretched arm.
That circus act had a home in South America, where creative and acrobatic football reigned supreme. Unfortunately, Carrizo failed to have the same effect on an international stage. 
Carrizo was only capped 20 times by the Argentine national team across a 10-year period. These include three caps in a disastrous 1958 World Cup that saw Argentina lose two games — including a 6-1 loss to Czechoslovakia — and finish bottom of their group.
Still, Carrizo had some fans from abroad, one of whom was Lev Yashin himself. The two goalkeepers only ever played against each other once — a friendly club match in 1968.
But it's clear the two greatly respected each other. Maybe it's because of the revolutionary goalkeeper ideas they shared, or perhaps it was just due to the fact that, as goalkeepers, they knew how difficult it was to excel in a position everyone disliked. 
Whatever it was, the two had a strong bond. Carrizo and Yashin appeared in a cover photo for the magazine El Gráfico in 1968, and following their friendly match, Yashin gifted Carrizo his gloves as a token of appreciation.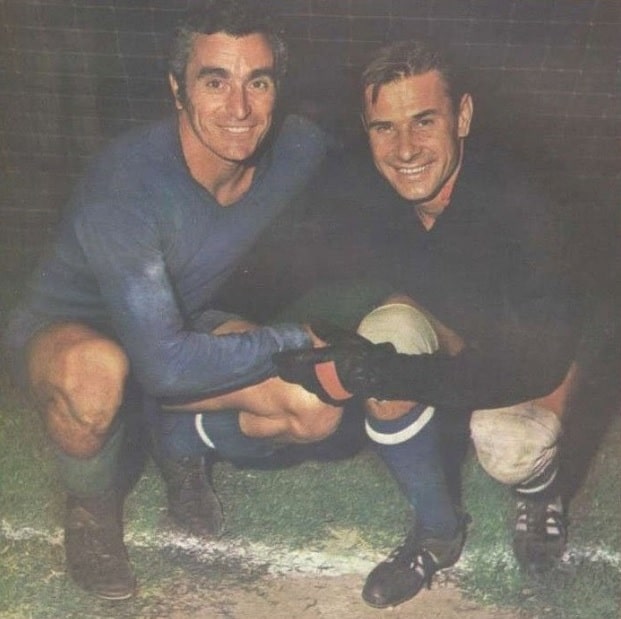 Carrizo died on March 20, 2020; exactly 30 years after Yashin passed away. Carrizo was laid to rest at the age of 93, just over a week after he had undergone back surgery.
The tributes came in quickly. River Plate got the hashtag #AmadeoEterno trending and called his death "a day of great pain for all the people of River Plate." Boca Juniors also sent their condolences, calling him a "legend of Argentine soccer" on Twitter. The Argentine FA's Twitter account called him the "glory of our football".
Tributes also came from other former Argentina goalkeepers including Ubaldo Fillol, who called Carrizo "an example for all those who love the goalkeeper position", and Nery Pumpido, who tweeted that Carrizo's "teachings will remain for a lifetime."
Carrizo wasn't your ordinary goalkeeper; he was a ground-breaking revolutionary who was well ahead of his time. He played the position of goalkeeper as it should've been played; proactive in handling situations of both an offensive and defensive nature, daring in both corralling loose balls and challenging opponents, and creative in both defending his goal and attacking that of his opponent's.
And while his European counterparts may get most of the praise, history will never forget the play of Argentina's capped custodian.
Rest in peace, Carrizo. #AmadeoEterno