Argentina and Barcelona legend Javier Mascherano has called an end to a magnificent career.
Javier Mascherano was one of a dying breed. One that would give it his all in every match, not matter the shirt he was wearing, no matter the opponent. The last true warrior. He may not have been the most talented on the ball, but his intelligence on the pitch along with the heart and desire he brought was unparalleled.
Making his Argentina national team debut prior to making his senior River Plate debut, the 36 year old would go on to play 146 times for his country. For the Olympic team, Mascherano was selected twice, the first coming in 2004 and the second in 2008 four years later. The outcome was Argentina winning gold twice and Mascherano becoming the first Argentine athlete to win gold at two separate Olympic games.
With the senior side, he may not have scored many goals but his participation on the pitch ensured that Argentina would go far in tournaments. The heart beat of the Argentina national team for over a decade, the would truly leave it all on the pitch. The best seven matches of his entire career came in 2014 at the World Cup. Those four weeks in Brazil defined what Mascherano was for Argentina. A leader. Not that there was any doubt about it.
From keeping the midfield afloat in the group stages, to the iconic picture of himself standing in front of two much larger Belgium players, Mascherano proved it wasn't the size of the dog in the fight but the size of the fight in the dog which mattered.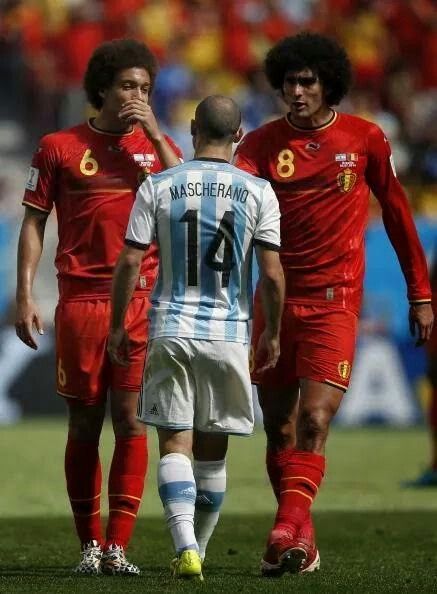 Arguably Mascherano's most famous match with his country came in the semi finals of the 2014 World Cup vs. the Netherlands. He would be knocked out, dazed but it wouldn't phase him. He would continue to play and in a last second tackle, the legendary number 14 would extend a foot in and block Arjen Robben's shot, taking it out for a corner kick. Not only did he block what looked to be a goal but he also tore his anus.
But the heroics weren't done yet. It was Lionel Messi wearing the captain's armband but that wouldn't stop Mascherano from motiving his team. The match was going to penalty kicks and he took goalkeeper Sergio Romero aside. His words of advice?
"Today, you become a hero."
And he was right. Romero would go on to save two penalty kicks as Argentina were off to the World Cup final. No less than they had deserved.
Despite Argentina not winning that final and subsequently making two more Copa America finals and destiny not being in their favor, Mascherano's influence on the team would continue to show. He would play his last match for his country at the 2018 World Cup vs. eventual winners France as he would call it quits after the final whistle.
Winning a total of 21 major trophies through his illustrious career, Mascherano's legacy and impact on the teams he played for cannot be counted by numbers. Not by the amount of trophies won, or the amount of tackles put in. You can't put leadership into numbers. And that's what he was. A leader. Diego Maradona once famously said his team was "Mascherano and 10 others". Some laughed and questioned Maradona's sanitiy when he used that phrase. However, looking back, one can't say he was fully wrong.
A career spanning 17 years at the biggest clubs in the world. River Plate, Corinthians, a short stint at West Ham, Liverpool and Barcelona, Mascherano had been there and done that at club level. He did it all. From la liga titles, to Champions League medals, even a treble, he has the credentials to prove it all. A stint at Hebei China Fortune saw him join Estudiantes where he would end his career.
Mascherano truly was one of the greats. Thank you for everything.