Argentina's starting line-up for their World Cup Qualifier against Chile has been announced.
In typical Edgardo BAUZA fashion, the starting eleven has been confirmed ahead of time. The rumored line-up had either Manchester City's Sergio AGÜERO or Inter's Ever BANEGA. The final decision is that it will be the England based AGÜERO who will start in the number 10 role. Here's the line-up:
Starting line-up:
ROMERO; MERCADO, OTAMENDI, ROJO, MÁS; MASCHERANO, BIGLIA; MESSI, AGÜERO, DI MARÍA; HIGUAÍN.
An injury to Manchester City's Pablo ZABALETA means that Gabriel MERCADO is the undisputed starter in the right back position. The suspension to Everton's Ramiro FUNES MORI means that Argentina will have an all Manchester based center back pairing with Manchester United's Marcos ROJO as his replacement alongside Manchester City's Nicolas OTAMENDI. On the left, Emanuel MÁS covers for ROJO who will play alongside him.
In midfield it's the partnership we have become accostomed to seeing. Javier MASCHERANO and Lucas BIGLIA will play in front of the back line. It's the (not so) fantastic four which was formed by Alejandro SABELLA during his tenure as coach which we will see up front for Argentina.
Lionel MESSI will be on the wing with Sergio AGÜERO in the number 10 role playing behind Juventus forward Gonzalo HIGUAÍN with Angel DI MARÍA occupying his usual left wing spot.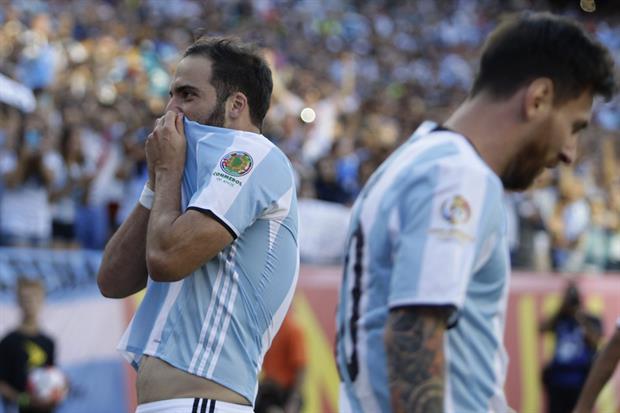 Edgardo BAUZA has also spoken about the team selection, Paulo DYBALA and more. Here's what he had to say:
The team:
"The team will be ROMERO; MERCADO, OTAMENDI, ROJO, MÁS; MASCHERANO, BIGLIA; MESSI, AGÜERO, DI MARÍA; HIGUAÍN."
About Paulo DYBALA:
"He won't even be on the bench. We'll see if he can get there on Tuesday (against Bolivia)."
AGÜERO and HIGUAÍN
"With DYBALA out, the best one there is is Kun. It's for that reason I'm putting him. HIGUAIN knows that for me, he's the starting number 9. I have a lot of faith in him."
Ten of the eleven players who will start for Argentina on Thursday took part in last year's Copa America Centenario defeat. The ten being ROMERO, MERCADO, OTAMENDI, ROJO (who received a red card and was sent off), MASCHERANO, BIGLIA, MESSI, AGÜERO, DI MARÍA and HIGUAÍN. The only one to miss out was Emanuel MÁS.
Of the eleven starting against Chile, seven of them took part in the World Cup final defeat against Germany. ROMERO, ROJO, MASCHERANO, BIGLIA, MESSI, AGÜERO and HIGUAÍN. It would have been seven had Angel DI MARÍA been fit to play.