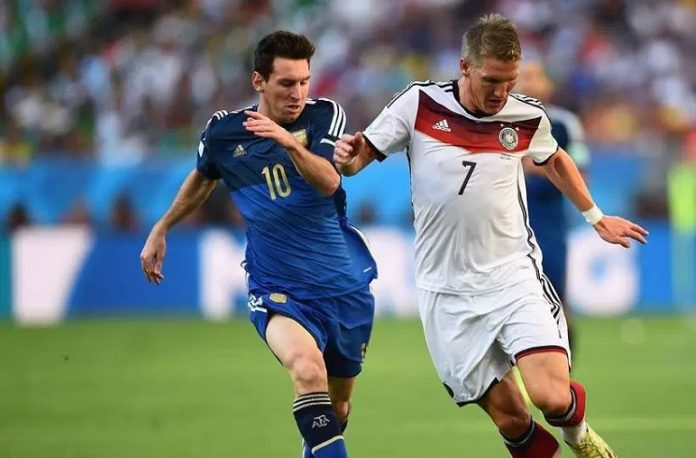 Lionel MESSI gave an interview where he talked about a number of topics, once of which being the final of the 2014 FIFA World Cup.
A very lengthy interview by Argentina's number 10, MESSI commented the 2014 FIFA World Cup, the 2018 FIFA World Cup, the Argentina National Team, his personal life and much more. Here's what he had to say:
Lionel MESSI on the Argentina National Team and the 2018 FIFA World Cup:
"I still enjoy coming to Argentina, to be a part of the group. I have some rather good sensations about this team. We have always at every opportunity seen it as our last chance, moreso now.

"This is a chance for this generation to win, there will be changes after this World Cup, I believe. This is a wonderful opportunity. We didn't have lots of time to prepare during WCQs due to how things worked out. So we have to take advantage of the time.

"It is now or never for us (to win the World Cup) there is no more. We have to see this as our final World Cup and look at it as such and take advantage of the opportunity. There are a lot of young players coming up. I hope they, too, end up having a wonderful generation. The kids coming up are doing some good things towards the future."

"The only people we owe anything to is ourselves. We don't owe anything to the people. We have given it our all, we got to three finals and things just didn't work out. It wasn't God's will. We want it. To come so close is tough for us but we look to change it."
Lionel MESSI on the 2014 FIFA World Cup final:
"I was checking out Instagram and drinking some mate and I saw one of the plays (of the 2014 final) and I said, 'I didn't remember that play we had'. I have seen very little of that match afterwards.

"That chance I missed in the (World Cup final) I still think about the way I hit that ball, the way I planted my foot, how poorly I hit it. I think that if I would have hit it differently like I did vs. Chelsea, it was a very similar play. I wanted it to at least be on target.

"There is always a moment every day where I remember (the World Cup final). I mean, imagine if we were World Cup champions? Everything would have change for all of us. We deserved it, but it didn't work out. That's what gets you most upset.

"That World Cup photo where I pass the cup is a hard one to look at. I mean we were that close to winning it, to lifting it. But I passed by it and it was a terrible feeling."

"I don't know what I would do if we won the World Cup. I still think of how close we were."
Lionel MESSI on his fitness:
"When I lose I get angry. I feel impotence. I feel upset. I mean live differently ever since my Tiago was born, but that doesn't mean that I am not affected and it doesn't make me angry. That goes for all my teammates. 'The reason we are on the national team is because we are cut out of the same cloth. They are all in big clubs and they are constantly fighting for titles. We are all competitive."

"I feel great. I am playing differently at FC Barcelona. I prepare like I always do. The more I play, the better I feel. It is very difficult for me to play one match a week. The week gets very long and when gameday comes I feel sluggish.

"I feel in rhythm playing that way. I have always played every three days throughout my career and my body is accustomed to that. When I have to train 3 or 4 days at high intensity, my body doesn't like that. I am used to being in shape playing matches. I know that there are certain rigors after a certain amount of matches and the chances to get injured increase, but I feel better when I play.

"I believe that the greater the fear you have (of getting injured) , the higher your risk of suffering an injury. You have to forget about everything and not call injuries upon yourself."
Lionel MESSI on wanting to win the FIFA World Cup:
"I know God wants to give me a World Cup, but man he was awfully close the last time. I hope that he does this time so we can get this thorn out of our side. "I don't know if football owes me a World Cup. It would close a chapter extraordinarily. If it is to be, it will happen. People have given me the sensation that they want me to win the World Cup and that Argentina become world champions.

"Everywhere I go around the world, people let me know that. we have the illusion, we are working hard and I hope we can get it. I don't know what will happen in the future. I just am looking to win (the World Cup), everything after that when the time comes."
Lionel MESSI on the tam and Jorge SAMPAOLI
(The following was set before the match vs. Spain):
"I am grateful that SAMPAOLI told me that this was my team. He told me personally. But I believe we have to be a very strong group. We need to find balance, understand (Sampaoli's) idea and to gain confidence.

"Look, Argentina is always a contender based on what it represents and its history. But the reality is that based on the circumstances, our play and how we get to this stage we are not contenders to win. There are teams right now that are much better like Spain, Germany, Brazil also France. Right now I think they are above us. Those are the contenders."
"We have a group of very good players, but we have to become stronger as a group. We, unfortunately, did not have the time to further establish our style because of the way our qualifying played out.
Lionel MESSI on retiring from the Argentina National Team:
"When I first left Argentina, I truly felt like I was not going to come back because of (coaches, admins, etc) the way things were. Because there were lots of things. It was our third final lost. But when I returned, I was embarrassed to have said it.

"I needed time to forget everything, the penalty (vs. Chile) and I really wanted to come back. I was embarrassed because I didn't want people to think that I did it to throw my teammates under the bus. I felt that way. My biggest mistake was to maybe say it then. It was very awkward to see my teammates playing and I wasn't there. I really wanted to be there again because I enjoyed being there with team. It was a complicated time but I always enjoyed the national team."
Lionel MESSI on the "MESSI friends" rumors:
"I think that anyone that says "MESSI's friends" is slapping the face of the players here. They are playing in some of the best clubs in the world. To say that is disrespectful. People have said horrible things about me, now I don't care. But for people to say things about my teammates, it is quite disrespectful. Because if you look at many of my 'friends'as they like to call them, many are amongst the best in the world in their positions.

"Based on that logic, Sergio AGUERO wouldn't have been on the bench as much as he has been. And mind you, he's my friend. Kun barely played. At times he didn't play and he made a tremendous effort to be part of the team as did many others."

"There have been several horrible things said about me. But there were some things said about Ezequiel LAVEZZI as well. They tried to attack many of us without caring about the consequences. We also have families that suffer because of what people say about us."
Lionel MESSI on Gonzalo HIGUAIN and Paulo DYBALA:
"HIGUAIN is an important player for this team. It would have been unfair if he did not get a second chance like the rest of us. I spoke to DYBALA after his comments and I understand him. What he said is the truth. At Juventus he plays in the same position as I do. We look to move the same way, we look for the same spaces. When we played together he played more towards the left. He's not accustomed.

"It is very difficult for both of us to play in that position because we both happen to cut inside. I rarely go down the left. I understood it and I never thought of it as a slight towards me. We spoke and there was nothing to clarify."
Lionel MESSI on first arriving to Barcelona:
"The first time that I got there, they were giving us clothes. In Argentina, one would practice with green shorts, the other with yellow shorts. Each player at Barcelona had their own stall with their clothes. Each had a ball. The installations were great.

"We would always see the first team players play. We would follow them but I never imagined that I was going to be playing alongside them. It was great when I went there the first time. It was difficult at first, but I am still going.

"I remember i was very young and I entered the dressing room and they told me, 'you have to change here'. The equipment manager brought me my clothes and I asked him, 'Can I change outside?' 'No. You have to change in here.'

"I sat down in a corner and began changing. These were the kids from the youth team I am talking about. I had just gotten there and there were some personalities there. So I sat there in a corner changing. I even asked my brother and he told me, 'you have to change in here'. My hands were shaking, but once I stepped onto the pitch, I was fine. I became friends with all the guys.

"I was training with the team for two weeks and on the final day, they had a match against older kids. A week later they called me and asked me to return. "I didn't just have scrimmages. They did lots of drills with reduced space, with small sides. They observed me in the small sided matches because I wasn't doing anything else. But you know things were going well.

"They call me and tell me that they were happy with what they saw and they wanted to talk to me and that they wanted to have me play at Barcelona. That night (my family) all went out to the port and celebrated."
Lionel MESSI on his personal life:
"I would like to have a little girl. But I just had my third boy, so we have to wait a little bit to see if it happens or not. As a father, i am a reflection of how I was treated as a kid. I also learned in the process. With Tiago, I learned. I began to mature and saw how I had to handle things. Now with three kids, it's a bit different.

"Right now Tiago is all about playing football and Playstation. He drives me nuts. He wants me to play all the time. I try my best, when there is time, we do it. Of course, I have to set boundaries, just like my wife does and we try to raise him as best we can.

"At home, I can't be 'MESSI'. I get home and have to help out now that we have three kids. I like it. I love being at home with them. I love spending time with them, taking them to school, pick them up. Just spend as much time I can with them. Being with my kids is the most beautiful thing. So, I do with with a great deal of pleasure.

"When I drop off the kids at school, the parents know me. I have a relationship with many of them. This is the third year Tiago goes to that school so we know everyone there. I 'm just another parent there.

"I have several WhatsApp groups… with my family, my friends, just like anybody else. When you eat at Sergio AGUERO's, you have to pick up after yourself. you take your plate and utensils place them in a place that makes things easier for the people that work there. It doesn't matter to me, I pick up after myself at home as well."
A big thank you to Juan G. Arango for the translation!