The year 2021 brought a lot of memories when it came to Argentine football with some good and some not as good.
While the biggest of all may have come in July, there were many moments which stole the headlines before July and after the Copa America win. In this three part article, we will be reviewing the top 15 moments in Argentine football of the past 365 days.
This article will focus on Moments 3-1 with the video below!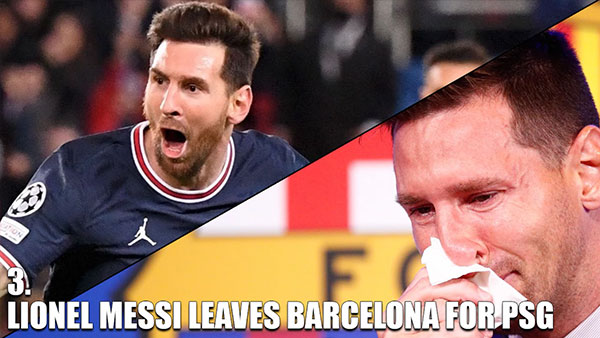 Down to the last three, this one is a two for one special and not likely one that we ever thought we would see. After two decades at the club, Lionel Messi would leave FC Barcelona. The club would make the announcement on August 5 releasing a statement about it. The news made headlines worldwide, from sports outlet to regular news outlets, Lionel Messi had left FC Barcelona.
The club's greatest ever player, the club's all time leading goal scorer, there is nothing that hasn't already been said about Lionel Messi at FC Barcelona. However, after initial reports that the club would be able to hold on to Messi despite their economic problems, Barcelona released the statement and suddenly, he was being linked to every top club.
While it came down to Manchester City and Paris Saint-Germain, it was PSG which would get his signature. The days leading up to his signing and presentation were full of anticipation. PSG's social media team was working overtime as they were about to welcome the world's greatest player. And for Lionel Messi, it meant preparing to put on a new club shirt. For Messi, it means new team mates but also being surrounded by friends with the likes of Angel Di Maria and Leandro Paredes from the Argentina national team, former team mate and good friend Neymar and playing alongside the likes of Kylian Mbappe.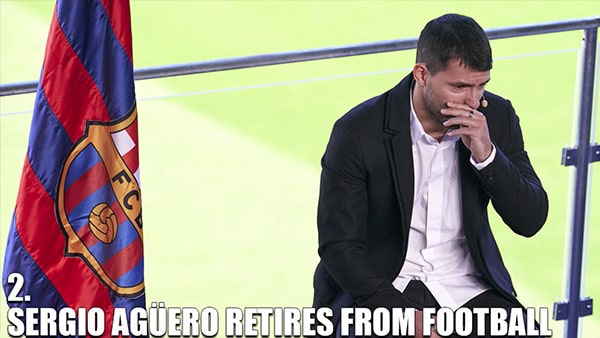 If number 3 was a headline no one thought we would ever see, number 2 is a headline no one would have ever expected or wished they would have to write. Sergio Agüero would announce his retirement from football on December 15 due to a heart arrhythmia. He would play his last ever match on October 30 against Real Valladolid where he would be substituted off with chest pains. He would score his only goal for the club against Real Madrid.
Agüero, still only 33 years old, held a press conference where he announced that he would have to stop playing football.
"This press conference is to announce that I decided to stop playing football.
"This is a very difficult moment for me. I have taken the decision because of my health. The doctors told me that the best for me was to stop playing professional football. I made the decision a week ago.
"The last moment winning the Copa America , I played little but I accompanied the boys and it was what we were looking for years. I was very happy. And the last one I scored against Real Madrid. Not bad, right, to be a last goal?"
His last goal for Argentina came on November 18, 2019 in a 2-2 against Uruguay. He has won the Copa America, two U20 World Cups and the Olympics with the Argentina national team.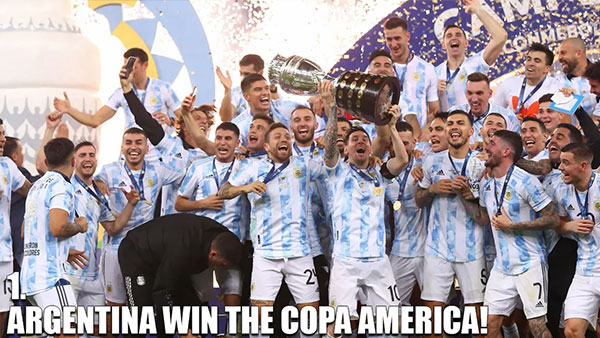 There was only ever going to be one match, one moment, one goal, one anything which was going to make the headlines and grab the number 1 spot. Argentina winning the Copa America. Argentina with a 1-0 win against Brazil at the Maracana in Rio de Janeiro with Angel Di Maria scoring meant that they would lift the Copa America trophy. After 28 years, Argentina ruled South America. After 28 years, Argentina were able to win an international title. At the age of 34, Lionel Messi lifted a trophy with Argentina.
For many, it was the first time seeing their favorite international team winning a trophy. For others, it was 28 years since they last saw the team win a trophy. But for everyone, it felt like a life time. After the heart breaks of 2004, 2007, 2014, 2015 and 2016 or even the 2005 Confederations Cup, fans of the Argentina national team were able to celebrate. And it's a match and a moment we will never forget.
This concludes the top 15 Argentine moments of the year!
Argentina 2021 Year in Review – Moments 15-10
Argentina 2021 Year in Review – Moments 9-4