With Paraguay winning 2-0 vs. Chile on Thursday, Argentina secured a top two finish in group A. Therefore, the Argentina national team will go through the lower area of the draw, while Brazil, already qualified as firsts in group B, will go through the upper half.
There is just one matchday left in the Copa America group stage and the quarterfinal brackets are still uncertain. Up to now, these are the standings (courtesy of google.com):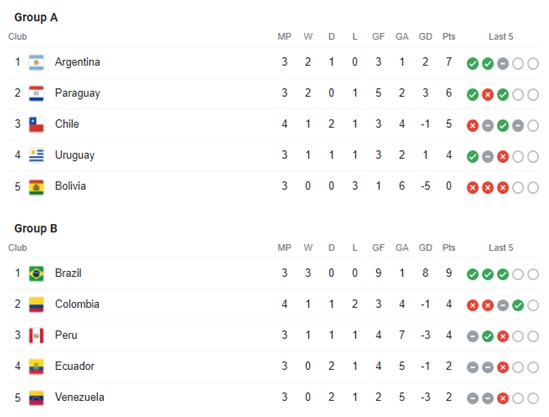 Of the 10 national teams, eight will be in the next round. This means that the top four from each group qualify to the quarterfinals with those finishing last in the groups being eliminated.
Bolivia has already been eliminated since they are last in group A, four points behind fourth place Uruguay.
Here, the quarterfinals brackets based on the group positions:
2B vs. 3A
1B vs. 4A
2A vs. 3B
1A vs. 4B
To date, with one matchday away, this is the current quarterfinals draw (courtesy of promiedos.com.ar):

This Sunday, the remaining two games of group B will be played, while on Monday, group A will be completed. Here is the schedule for matchday 5 of the Copa America:
Sunday 27
Group B:
Brazil (1º) vs. Ecuador (4º)
Venezuela (5º) vs. Peru (3º)
Free: Colombia (2º)
Monday 28
Group A:
Argentina (1º) vs. Bolivia (5º)
Uruguay (4º) vs. Paraguay (2º)
Free: Chile (3º)