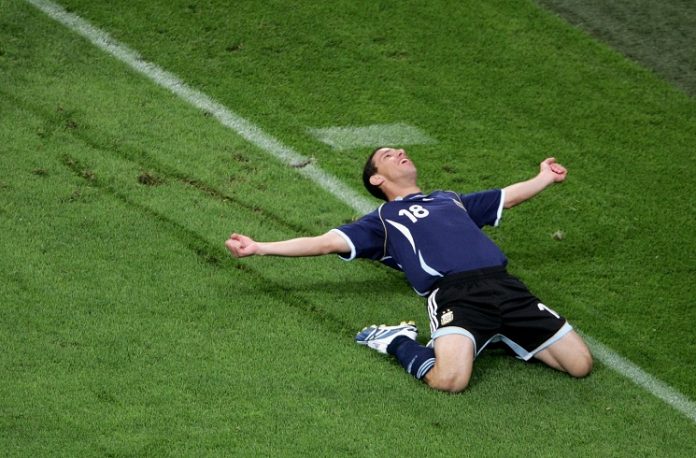 As part of the 50 days, 50 Argentina World Cup moments, we will be counting down the top 50 Argentina moments at a World Cup using the daily number.
We are just 41 days until the start of the FIFA World Cup and in 41st place we have Maxi RODRIGUEZ scoring in the 41st minute against Serbia and Montenegro.
It's not every day Argentina scores six goals in a match, let alone at a FIFA World Cup. But on June 16, 2006, José PÉKERMAN's boys did just that. It was Argentina's second match at the 2006 tournament having just come off a 2-1 win against Ivory Coast. The team were looking to put away the ghosts of 2002 in South Korea and Japan. And did they ever.
Maxi RODRÍGUEZ opened the scoring after just six minutes. Arguably the goal of the tournament followed 25 minutes after the opening goal when Esteban CAMBIASSO finished off the play of the tournament, a goal which came after just 24 passes. Words can't do that goal justice. And just 10 minutes after that, in the 41st minute, Maxi RODRIGUEZ all but sealed the win for Argentina.
A second goal from Maxi RODRÍGUEZ, one of Argentina's standout players of the tournament gave Argentina a 3-0 lead going into half time. Javier SAVIOLA's blocked shot by the goalkeeper rolled onto the line before Maxi pounced on it and cartwheeled his way to the corner flag celebrating.
Argentina went on to score three more goals in the second half, one by Hernan CRESPO to make it 4-0, the fifth added by some kid called Lionel MESSI and a sixth by Carlos TEVEZ.
Here was Argentina's starting XI for the match:
1. Roberto ABBONDANZIERI
2. Roberto AYALA
3. Juan Pablo SORÍN
6. Gabriel HEINZE
7. Javier SAVIOLA
8. Javier MASCHERANO
9. Hernán CRESPO
10. Juan Roman RIQUELME
18. Maxi RODRÍGUEZ
21. Nicolas BURDISSO
22. Luis GONZÁLEZ
If you missed it, here are our 50 World Cup moments:
50: Sergio ROMERO gets 50th cap vs. Switzerland at 2014 FIFA World Cup.
49: Roberto AYALA scores in the 49th minute vs. Germany at 2006 FIFA World Cup.
48: Angel DI MARIA's 48th cap for Argentina vs. Bosnia-Herzegovina at 2014 FIFA World Cup.
47: Mario KEMPES scores Argentina's 47th goal all time at the 1978 FIFA World Cup vs. Peru.
46: Jorge VALDANO scores in the 46th minute at the 1986 FIFA World Cup.
45: Javier ZANETTI scores in the 45th minute vs. England at the 1998 FIFA World Cup.
44: Gabriel BATISTUTA scores goal number 44 in his Argentina career at the 1998 FIFA World Cup.
43: Gonzalo HIGUAIN receives cap number 43 for Argentina vs. Germany in the final of the 2014 FIFA World Cup.
42: Pedro PASCULLI scores in the 42nd minute for Argentina vs. Uruguay at the 1986 FIFA World Cup.