Colombia will be Argentina's opponent on Tuesday in one of the semifinals of the Copa America. After beating Uruguay on penalties, Colombia are looking to reach its third-ever final in the competition, having previously made it to the final in 1975 and 2001.
Per reports coming out of Colombia, this is the starting eleven that coach Reinaldo Rueda would play vs. Argentina:
David Ospina; Daniel Muñoz, Yerry Mina, Davinson Sánchez, William Tesillo; Juan Guillermo Cuadrado, Wilmar Barrios, Gustavo Cuéllar, Luis Díaz; Luis Muriel or Rafael Santos Borré, Duván Zapata.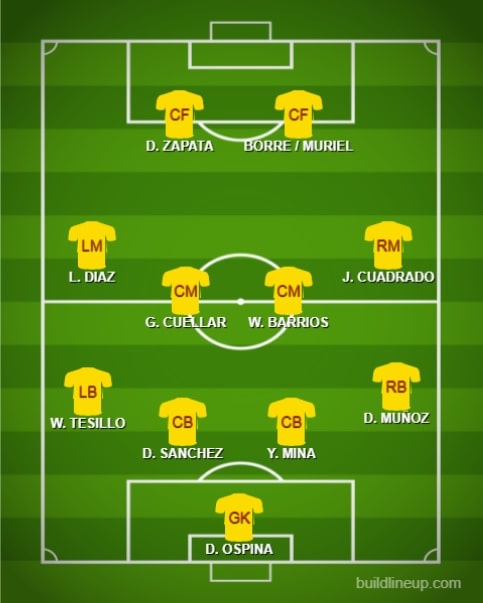 Colombia had finished 3rd in group B, with 4 points. They started the Copa America 2021 with a 1-0 win vs. Ecuador. On matchday 2, they drew 0-0 vs. Venezuela and they ended up losing their last two games of the group stage: 1-2 vs. Peru, and 1-2 vs. Brazil.
Last Saturday, they played Uruguay in the quarterfinals. After a very close game, it finished goal less and after 90 minutes, the "Cafeteros" defeated the "Charruas" 4-2 in the penalty shoot-out.
Argentina and Colombia have played against each other many times during the last couple of years. Here are the scores from the last six matches between both national teams:
June 8th , 2021 – World Cup Qualifiers
Colombia 2-2 Argentina
June 15th , 2019 – Copa America (group stage)
Argentina 0-2 Colombia
September 11th , 2018 – Friendly:
Colombia 0-0 Argentina
November 15th , 2016 – World Cup Qualifiers
Argentina 3-0 Colombia
November 17th , 2015 – World Cup Qualifiers
Colombia 0-1 Argentina
June 26th , 2015 – Copa America (quarterfinals)
Argentina (5)0-0(4) Colombia
Argentina's star and captain Lionel Messi will have a tough goalkeeper on the opposite side. Colombia's experienced goalkeeper David Ospina has had good performances in this Copa America but so has Messi.
Between the South American Qualifiers and the Copa America, "La Pulga" scored two goals in seven games against Ospina. The first one was on November 15th of 2011, in a 2-1 victory vs. Colombia at the Estadio Metropolitano Roberto Meléndez, for the Brazil 2014 World Cup Qualifiers. The second occurred on the same day and month of 2016, in a 3-0 win at the Estadio Bicentenario San Juan, in the 2018 World Cup Qualifiers for Russia.
The latter was a tremendous free-kick goal: