Ángel Di María's story with the national team can be compared with any of the stories written by the greats. It has everything: drama, conflict, emotion, and a fantastic ending; one which hopefully lasts a couple of more years.
His injuries in key moments were his biggest downfall with Argentina. As several players have said over time, injuries are perhaps the worst thing that can happen to a footballer since it is something that, most of the time, cannot be controlled. The impotence that the player feels in those moments is huge.
"Fideo" missed the 2014 Brazil World cup final due to a tear in his right thigh. He had to be replaced in the first half of the quarterfinal match vs. Belgium, and it came down to the wire on whether or not he would play the final vs. Germany. It was definitely a risk for him to play with so little time of recovery but, as he stated some time after the final, it was going to be worth it. This is what he said to the Argentina physical trainers the morning of the final:
"If I get injured again, let me keep getting injured. I don't care. I just want to be there and play."
It was that same morning when he received a letter from his club, Real Madrid, ordering him not to play. Ángel ripped that letter without even reading it, and told the physical trainers it was going to be his decision whether he plays or not. There, he went to talk with coach
Alejandro Sabella.
This is what Di María wrote in an article for Player's Tribune about that conversation with the Argentina coach, hours before the game of their lives:
"I sincerely wanted to play that day even if it ended my career. But I also didn't want to make things complicated for our team. So I woke up early that morning and went to see our manager, Mr. Sabella. We had a very close relationship, so if I told him that I wanted to start, I knew that he would feel the pressure to put me in. I told him sincerely, with my hand on my heart, that he should put in the player that he felt he had to put in.
"I said, "If it's me, it's me. If it's another, then it's another. I just want to win the World Cup. If you call on me, I will play until I break."
"And then I started crying. I couldn't help it. The moment had overwhelmed me."
Enzo Pérez finally played in his place and, even though Di María exercised his leg right before the game and during halftime, he did not play a single minute in the final that ended with Germany beating 1-0 Argentina, in extra time. Later, Di María would state that that was "the worst day of his life."
Incredibly, that was just the beginning of Di María's bad luck with the injuries.
During the 2015 Copa America final in Chile against the hosts, Ángel suffered a muscle injury after a 70-meter run in the 24th minute of the first half. He then had to be replaced as Argentina would go to lose that final vs. Chile through the penalty shootout.
At the 2016 Copa America in the United States, he suffered another muscle injury during the second group stage game, a 5-0 win vs. Panama. This came after having a great performance during the opener vs. Chile, where he scored and assisted.
Despite missing all the Cup matches from then on, it seemed that he was going to be able to play the final. A couple of days before the big game, again vs. Chile, he re-felt the injury but still played in Argentina's third consecutive final. Di María started the match but was visibly hurt. One more time, the same story:
Chile beat Argentina on penalties.
This continuation of getting injured made him seek professional psychological help. Although he started working with a psychologist during the 2014 Brazil World Cup qualifiers because the pressure of playing with the national team at that time was "huge," he needed it even more
after the three lost finals.
Many Argentina fans and journalists destroyed that generation of footballers who, three times were on the verge of lifting the trophy. Ángel Di María was probably one of the most punished along with Gonzalo Higuaín and Fernando Gago. Living in the era of fast
communication, where everything spreads with the speed of social media, clearly did not help to appease the fire.
"The criticisms and memes that come out, even if it seems like it wouldn't hurt you, it hurts you a lot and makes you think a lot. One of the reasons why sometimes I think or thought of stop trying is that."
As with other interviews with players of that generation, Di María looked sad when he talked about what he had to experience with the national team despite reaching three consecutive finals. However, during an interview with ESPN F90 in September of 2020, Ángel made it clear that he would continue to seek revenge with Argentina:
"I have many friends that tell me to stay in Paris, have a coffee in front of the Eiffel Tower. I tell them that I prefer to go to Argentina and have 45 million people insult me and I'll defend the Argentina shirt."
Angelito Di María, señores. pic.twitter.com/iaXN6mUCV2

— IPEstadisticas (@Isidro_____) July 11, 2021
But Di María also had people who were against him from his beginnings with the national team. If you don't remember, listen to what Diego Maradona said while he was Argentina's coach in 2010:
"Di María was resisted (against). Remember the game with Uruguay. They all wanted me to put another player in that position, and I told the lad (Di María): I'll die with you."
A Di María me lo resistían, Fernando. Te abrazo adonde estés, Diego. pic.twitter.com/h0Le6CJC2H

— Matías Baldo (@matiasbaldo) July 11, 2021
In the last couple of years, especially after the 2016 Copa America, the fans and the media began to ask for a change in the Argentina squad, which included Di María, who was already in his 30's, being out. Despite playing at a high level at Paris Saint-Germain, most of the Argentina fans thought Ángel should not be call anymore for the national team.
Still, "Fideo" maintained his good permances at PSG, playing alongside stars like Kylian Mbappé and Neymar, and was called by all the Argentina coaches. Although he was not always a starter, he ended up playing many minutes with the national team.
Even in the last Copa America, the 2021 edition in Brazil, he was not a starter from the beginning. Di María fought for a spot in the starting eleven, which he only achieved in two of the seven Copa America matches. Nicolás González was coach Lionel Scaloni's favorite in the left-wing position. However, in the most important match of the tournament, the final against Brazil, Scaloni started with Di María instead of Nico González.
In the end, Ángel Di María would go on to score the winning goal in the 1-0 win vs. Brazil, at the Maracanã, in the 2021 Copa America final. His words speaking with his family, in tears, after the game, summarizes how big was his desire of lifting a trophy with Argentina, how much he loves his country, and how much he fought for it:
"We made it. I love you so much. Thanks for always supporting me. I love you. Did you see it? Someday the wall was going to break. The wall finally broke. I got hit many times, but I kept coming here. I never gave up, dad, as you taught me. I was always there."
Ángel Di Maria y unas hermosas palabras para su familia luego de ganar la Copa América. 🥺❤️ pic.twitter.com/24aOTuctEi

— Futbol Total (@Futbolintertw) July 14, 2021
As he said several times, and we can see it clearly in the previous video, the support of his family was extremely important for this outcome. Here, we can see the emotional reunion of Ángel with his daughters and his wife, after winning the Copa America:
¡VOLVER A CASA, COMO UN VERDADERO CAMPEÓN! El emotivo reencuentro de Fideo Di María con sus hijas y con su mujer Jorgelina tras ser el héroe de la consagración de Argentina, en la #CopaAmérica 2021. pic.twitter.com/8cD5G4lyJJ

— SportsCenter (@SC_ESPN) July 12, 2021
Di María, now more than ever, earned being called "the player of the important goals" with the Argentina national team:
At the 2008 Beijing Olympics final, he scored the only goal in the 1-0 vs. Nigeria, finishing with a chip over the opponent's goalkeeper.
At the 2014 Brazil World Cup round of 16, he scored the winning goal vs. Switzerland, with 3 minutes left in extra time.
He also scored against France, at the 2018 World Cup round of 16 in Russia, with a fantastic shot outside the box that gave hope to the Argentina fans.
And of course, his recent winner in the 1-0 vs. Brazil, at the 2021 Copa America in Brazil.
Lionel Messi's post on his Instagram account of "The old guard", with Sergio Aguero, Nicolás Otamendi, Ángel Di María, and himself, somehow symbolizes the fight of that generation of players that reached three finals and could not get the title. This trophy is for them too.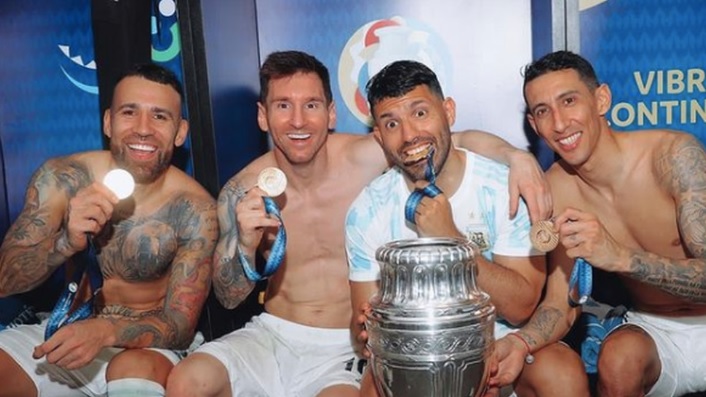 As a way to immortalize the triumph, and all that it meant, Ángel got tattooed the Copa America on the thigh of his left leg. It will be an indelible memory for him, as well as for all the Argentina fans.