Argentina national team coach Lionel Scaloni does not yet appear to have selected a starting XI for the team's Copa America clash on Friday.
There are at least four doubts for tonight's match, including a possible change of formation, this per a report by TyC Sports. In comparison with the starting XI which started vs. Chile, Lisandro Martínez, Cristian Romero, Marcos Acuña, Guido Rodríguez, Exequiel Palacios, and Ángel Di María could be in, while Martínez Quarta, Nicolás Tagliafico, Leandro Paredes, Giovani Lo Celso, and Nicolás González could be out.
In case Scaloni chooses to play with a 4-3-3 formation vs. Uruguay, this would be the lineup: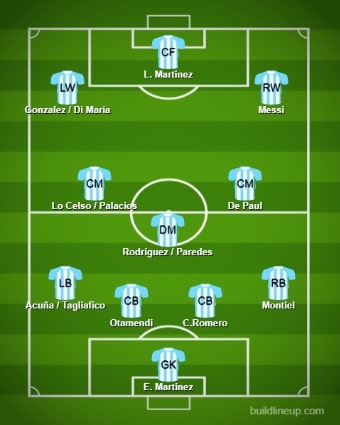 Should Scaloni decide to play with a 5-3-2 formation vs. Uruguay, this would be the lineup: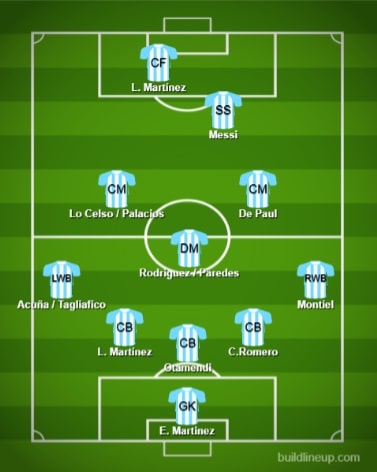 Following TyC Sports' report, Marcos Acuña currently has more of a chance to be a starter than Nicolás Tagliafico, while we are almost sure that Guido Rodríguez will begin in the place of injured Leandro Paredes.
Who will start between Nicolás González and Ángel Di María is still uncertain. Even though Fiorentina's recent signing had a good game in Argentina's Copa America opener vs. Chile, the experienced PSG player came off the bench and saw a lot of the ball. On the other hand, Giovani Lo Celso appears to have a better chance of starting than Exequiel Palacios.
The reason why there are so many doubts regarding Argentina's lineup has to do with the fact that coach Lionel Scaloni took the decision, since the beginning of Copa America, to not confirm the starting XI before each game until an hour or two before the kick-off.
Here is what he said during Thursday's press conference:
"The team is almost confirmed, I will not give it, but it will be similar to the one from the other day (vs. Chile). There will be one or two modifications thinking about the number of matches ahead."
It looks like there may be a few more changes than the ones Scaloni mentioned yesterday. The Argentina coach got upset when, prior to the last World Cup qualifying match vs. Colombia, the press found out about Argentina's lineup before he announced it. This is something that has always happened in Argentine football during the last 20 years.